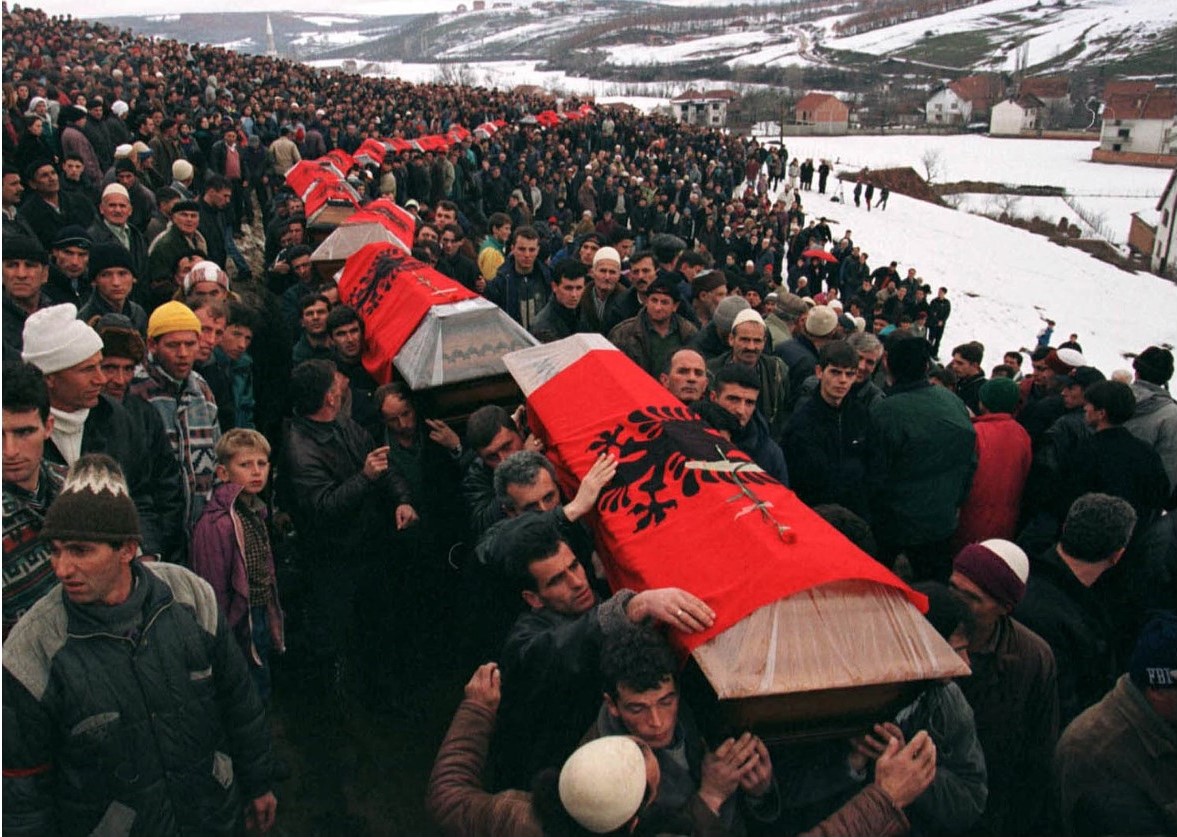 Leaders in Albania have commemorated the Recak Massacre in Kosovo, in which Serbian troops killed 45 Albanian villagers on January 15, 1999.
"On the Day of Remembrance of the Genocide against Albanians in Kosovo, we honor with deep pain and respect the memory of 45 innocent civilians who lost their lives in the Recak Massacre, as well as all the unforgettable victims of the barbaric crimes of the Milosevic regime.
This massacre in the heart of Europe, which shocked the whole world, remains an indisputable proof of the genocide and ethnic cleansing in Kosovo, which should not be forgotten or denied, to avoid any risk of recycling violence in our region, whose war wounds and sufferings are still fresh," President Ilir Meta stated in a Facebook post.
The President also thanked Ambassador William Walker, the head of the OSCE verification mission, for denouncing the crimes and making sure it's not forgotten.
The massacre was a key point in pushing NATO to undertake military action against the Serbian regime of Slobodan Milosevic.
Serbia still denies the Recak massacre ever took place, with President Aleksandar Vucic, a former Milosevic minister,  stating that "it was all fabricated by that global fraudster, scammer and swindler, Walker".
Albanian Prime Minister Edi Rama also commemorated the massacre on its 22nd anniversary, and raised the Albanians' war for freedom.
"Reçak is an unforgettable proof of the innocence of the Kosovo Liberation War and an indelible legacy not only for a free democratic Kosovo, but also for the conscience of the civilized world," he wrote on Twitter.
Opposition leader Lulzim Basha stressed the need for justice to be carried out against perpetrators of the massacre.
"All Albanians today commemorate the Recak massacre. The wound is still fresh, the pain has not faded and will remain until justice is done for the victims of the genocide in Recak and throughout Kosovo. Justice so that history is not repeated, forgotten or changed!" Basha stated.
Commemorating activities were also held throughout Kosovo on Friday.
In December, Kosovo's acting president asked the Albanian parliament to recognize the Serbian genocide against Kosovo, only to be criticized by Prime Minister Edi Rama for allegedly bringing issues of her country's domestic politics to Albania.