The government has decided to give the Academy of Sciences an additional fund of ALL 100 million (EUR 810,000) for 2021.
According to the decision of the Council of Ministers, this additional fund is given "for financing the compilation and publication of three major Albanological and encyclopaedic works".
These three works include: Albanian Encyclopaedia, the Large Albanian dictionary and the History of Albanians.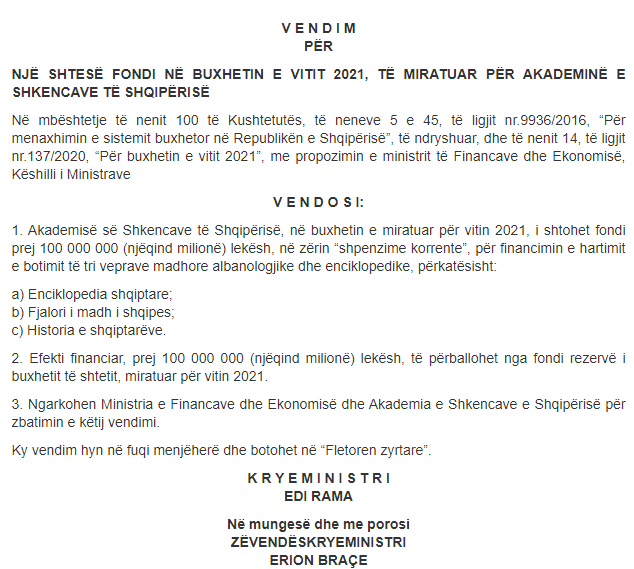 For the above three projects, the Academy of Sciences received from the Assembly an additional 20 million ALL (EUR 162,000) in the budget after its request in November 2020.
In 2020, the government allocated an additional 4.6 million ALL (EUR 37,276) to the Academy of Sciences for pandemic situation studies. The results of the study in question showed that half of the population of Tirana has developed anti-COVID-19 antibodies.
The support of the Academy of Sciences with funds from the government comes three years after Prime Minister Rama threatened that they will not receive any penny if they are not reformed.
In 2019, Skënder Gjinushi was elected head of the Academy of Sciences, a decision that was opposed by President Meta. Exit.al has previously explained that the election of a person with a political post at the head of the Academy of Sciences is a violation of Article 6 of the Law on the Academy of Sciences. He was previously the Minister of Education during the Communist regime.