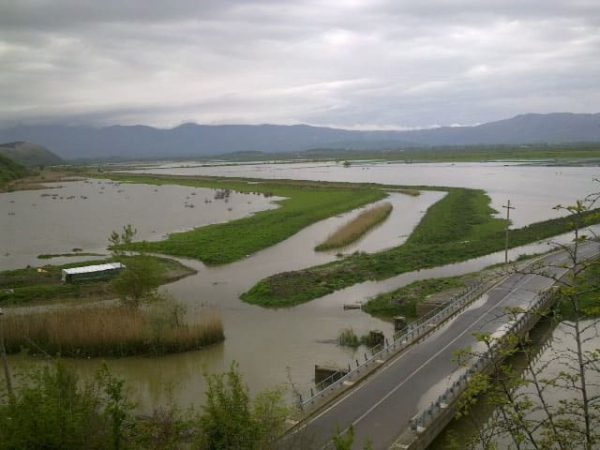 Following a weekend of heavy rain, several parts of Albania have again found themselves underwater. 
Two weeks ago, large swathes of northern Albania as well as Vlora in the south, were hit by bad flooding. With the ground already saturated, the recent rain over the weekend caused further issues.
Some 1300 hectares of land were reported to be flooded in the Municipality of Shkodra, The flooding was centred in the village of Obot where a water level of 85cm was reported on the roads. In the village of Oblika, the flooding impacted the water supply and has left inhabitants without access to drinking water.
In Velipoja, 20 hectares of flooded agricultural land were reported.
In neighboring Lezhe County, 250 hectares of waterlogged land were reported. 150 hectares were reports in Zadrima and 100 in the Torovica region.
The Municipality reported that despite the heavy rain, the local rivers were still not at a critical level and there were no issues with water or electricity supply.
In Shijak, several residential properties were flooded after the Erzen river burst its banks. Likewise in Tirana, the Ishem River overflowed, flooding agricultural land in Murqine, Mallkuc and Bilaj.
Elbasan was also affected where some houses were flooded in neighbourhoods 2 and 3. There was a landslide on the Mollas-Frasher road as well as the Paper-Pajun road. The villages of Hotolisht and Polis in Librazhd have been impacted by a loss of electricity.
Landslides were also reported on the Fier-Ballsh road axis.