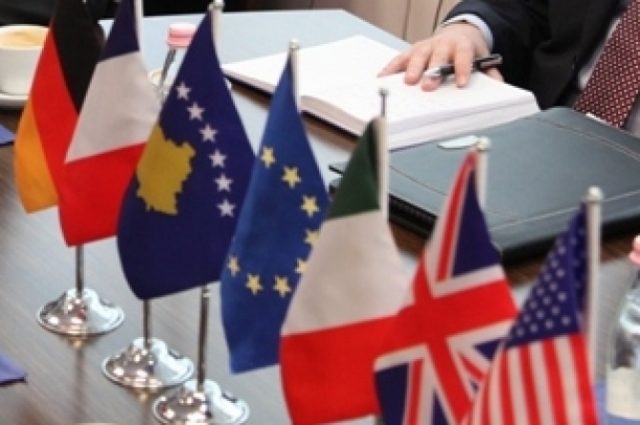 The Quint ambassadors to Kosovo stressed that the Central Elections Commission (CEC) must ensure the electoral process is transparent and free from political interference, during a meeting with its chairwoman, Valdete Daka on Monday.
A statement issued by the Ambassadors of France, Germany, Italy, the United Kingdom and the United States in Kosovo says that citizens deserve calm and maturity from all sides.
"It is important that legal decisions are respected, and avenues for appeal are pursued without interference. We urge everyone to refrain from inflammatory and speculative personal attacks," the Quint Ambassadors stressed.
They encourage all parties and candidates to engage in a fair competition across Kosovo, while abiding by COVID-19 measures throughout the campaign.
"As they weigh up their choices, the people of Kosovo deserve to hear detailed policy proposals from their politicians, with arguments made in a spirit of informed debate," statement reads.
Quint Ambassadors expressed their commitment and support for efforts to build a secure, prosperous, democratic Kosovo for all citizens, "and to working closely with any government that is formed through free elections in accordance with the constitution."
The Election Complaints and Appeals Panel (ECAP) will decide today on the complaints it received from Kosovo political parties, following the non-certification by CEC.
CEC did not certify electoral lists of Vetevendosje, Alliance for the Future of Kosovo (AAK), and the Social Democratic Initiative (NISMA).
After verification by competent institutions which checked if the candidates fulfilled the criteria to run for elections, the Kosovo Judicial Council (KJC) said 47 of them were not in accordance with Article 29 of the Law on General Elections or were convicted with a final decision by a Kosovo court in the last three years.
Names of these 47 candidates banned from running have not been made public yet, but sources from Vetevendosje confirmed for Exit News that their leader, Albin Kurti is among them.
In 2018, Kurti was convicted for throwing tear gas in Parliament in protest against border demarcation with Montenegro. Vetevendosje claimed that Kosovo lost territory. They protested in the same way against the establishment of the Association of Serb-majority Municipalities.
Electoral lists were not certified as parties did not replace the names of candidates who were listed by KJC as those who did not meet the criteria to run on elections.