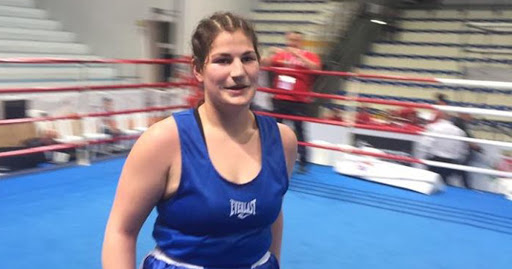 Albania's first female boxer has set her sights on the Tokyo Olympics which are due to be held later this year.
20-year-old Elsidita Selaj has been boxing since she was 15, despite a number of obstacles put in her way. The first challenge she faced was overcoming judgement and stereotypical gender roles that would consider a female boxer inappropriate.
In fact, her now coach, nine-time Albanian champion Jetmir Kuci at first refused to work with her. He told AFP:
"I was a bit traditional. It was very difficult to accept to train Elsidita, thinking about the judgements of the people in the city where we live."
But thanks to her perseverance, he accepted and the taboo around female boxing was dented.
She then went on to be licensed as an amateur boxer and to receive several medals in regional and European championships. Now, she wants to go to the Olympics in Tokyo but she is concerned about being able to afford the expenses. If she cannot afford it, Selaj said there is always the 2024 Olympics in Paris.
The young woman receives a salary from the Municipality of EUR 490 a month which helps her continue training. Her father Luan said he is adamant that he will sacrifice everything and "work day and night" so his daughter will succeed.
Selaj trains for six hours a day, but as the country's only female boxer she has to train with men.
""Boxing for me is more than a sport: it is in perfect harmony with my character, my state of mind, which is animated by a kind of aggressive rebellion but which inside hides a lot of love and passion," she said.