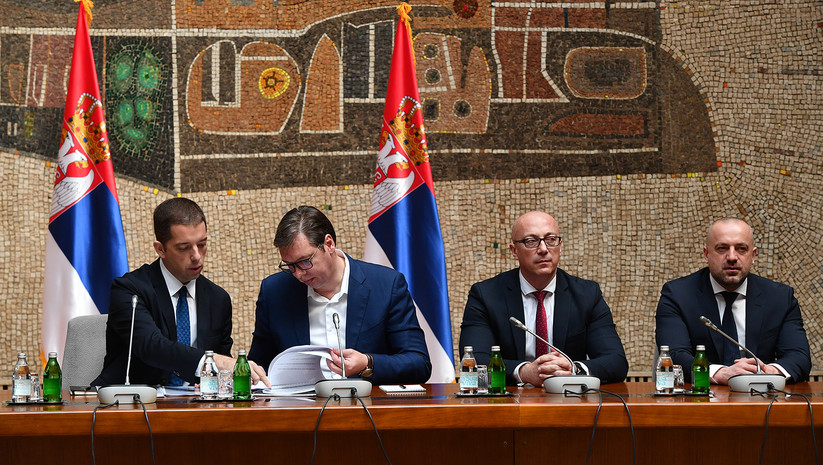 Three among dozens of parties running in Sunday elections in Kosovo are Serb parties competing for the 10 seats reserved for Serbs.
Out of 120 seats in the Assembly, 20 are reserved for minorities, ten of which for Kosovo Serb representatives.
Srpska Lista (Serb List), a Belgrade-backed party aims for all ten seats, as it competes against two citizens' initiatives: Serbian Democratic League and Citizens' Initiative for Freedom, Justice and Survival.
Kosovo Serb politicians in opposition with Srpska Lista claim that elections in Serb-majority municipalities are not free and fair.
Nenad Rasic, who was the leader of the Sloboda coalition in the 2019 elections, told Prishtina Insight that "Kosovo institutions are not capable of providing conditions for normal elections", due to intimidation and threats.
Rada Trajkovic, a Kosovo Serb politician running with the Citizens' Initiative for Freedom, Justice and Survival has low exceptions due to "intimidation and vote buying" by Srpska Lista.
One of the key findings in the EU 2020 Report on Kosovo about 2019 elections was that "the campaign was competitive, except in the Kosovo Serb areas where the campaign environment was marred by intimidation against non-Srpska Lista candidates and supporters".
Trajkovic added that Kosovo Serbs "cannot escape Srpska Lista's influence over their lives as their control over public employment has extended".
Kosovo Bosniak former MP, Duda Balje accused Srpska Lista of trying to also influence the election of MPs in Kosovo's non-Serb minorities.
Ten other seats are reserved for non-Serb minorities: four for Romani, Ashkali and Egyptians, three for Bosniaks, two for Turks and one seat for Gorans.
Srpska Lista's plan is to make it hard for Vetevedosje, the largest party in the country, to gain power, according to a former Kosovo Serbian MP Slavisa Petkovic.
Polls put the Vetevendosje party led by Albin Kurti ahead of all others, with 48 percent of votes.
"With two or three more deputies from other non-majority communities they will try to prevent Vetevendosje from forming the government," Petkovic told BIRN.
The Constitution of Kosovo stipulates that Kosovo Serb representatives must be included in the country's governing institutions. It requires at least one minister and two deputy ministers from the Kosovo Serb community, with provisions for more in case the government has more than 12 ministries.
Being backed by Belgrade, Srpska Lista acts in synchrony with the politics of Serbia's President Aleksandar Vucic, even by often boycotting Kosovo institutions.
Snap elections will take place on February 14. Srpska Lista led by Goran Rakic will once again run with Belgrade's support, in an attempt to influence Kosovo institutions in accordance with Serbia's political needs.