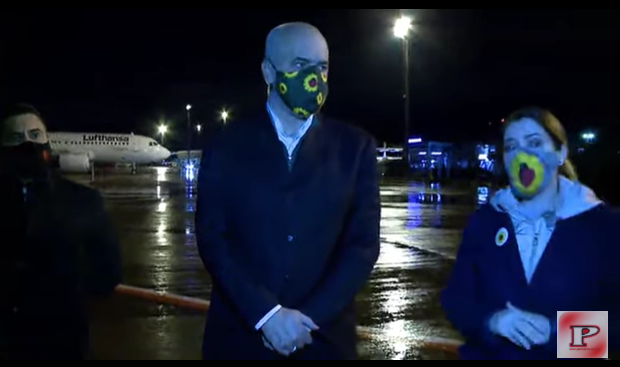 Prime Minister Edi Rama and two ministers received 8,190 Pfizer vaccine doses at Tirana's airport on Monday, bringing the total to 17,355. This number includes the 975 doses donated by an undisclosed EU country.
Rama held the usual press statement at the airport on the occasion of vaccines' arrival, where he explained the struggle for vaccines worldwide and his government's success in signing a contract with Pfizer and rolling out the vaccination plan.
"A country is a wolf to another country, a man is a wolf to another man. This is how it is. It is easy to talk of solidarity, equality, but we are actually in front of the fact that the need [for vaccines] is so great and the amount so small, while a large pack of wolves [waits]," Rama said.
He once again criticized the EU policy with vaccine distribution, saying that it is "a European political fatality" that North Macedonia had to turn to China and Russia for vaccines.
As far as it relates to Albania, Rama said the government has not and will not refuse to get Russian or Chinese vaccines, while stressing that apart from not having been approved by the WHO, they are also not readily available due to high demand in their countries of production.
Albania has been administered less than 10 thousand Pfizer vaccines Since January. It has prioritized at once medical staff, the elderly in nursing homes, people and celebrities over 80.
The country expects to get 40 thousand dozes in total from Pfizer within February, and it is finalizing a deal for a donation of 360 thousand AstraZeneca vaccine doses from an undisclosed country.