The wealth of Albanian Prime Minister Edi Rama increased 16 times in 16 years, according to a BIRN analysis.
Rama declared assets worth EUR 4,500 in 2003 but by the end of 2018, his family wealth reached the value of over EUR 800,000.
Rama justified his income as follows:
Salary in government position: EUR 205,8 27.1 %

Income from his wife's work: EUR 293,000 38.6%

Income from his son, sale of works of art: EUR 60.8K 8.0%

Income from sale of the book "Kurban" and artistic activity: EUR 72K 9.5%

Rental income: EUR 125,700 16.6%

Other income: Euro 85 0.1%
It was noted that between 2011-2013 Rama did not exercise public function and therefore was not obliged to declare his assets. During this period, his wealth increased by EUR 360,000. 
In the declaration of 2013, when he became Prime Minister, Rama also included his house that was built in Surrel at the foot of Mount Dajti worth EUR 330,000. 
In the documents Rama and his wife have submitted to the Albanian authorities, BIRN was unable to find information on the source of income for the construction of the house. 
The property was built in 2012 and Rama claimed it was funded by his wife. Exit was able to ascertain that the land it was built on was indeed purchased by her, but it was not possible to verify how its construction was funded.
In the below graph, you can see the asset declarations of Edi Rama between 2003 and 2017 and those of his wife he married in 2010. As you can see, there is a big difference in the declaration of Edi and Linda in 2011 when he left office as Mayor of Tirana and when he became Prime Minister two years later.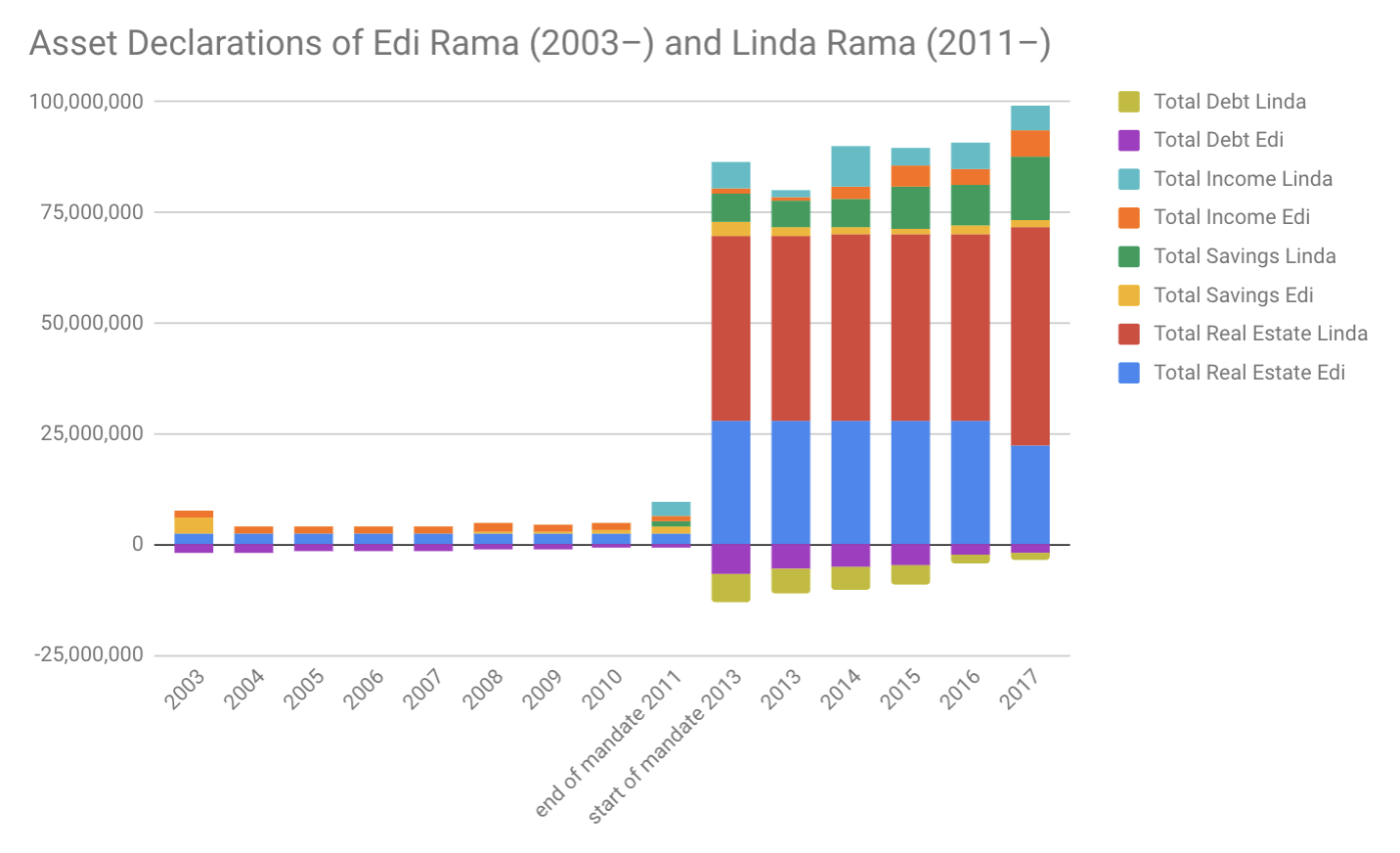 In 2003, Rama declared the value of a 59 sqm apartment in Tirana worth EUR 136 which was then updated to EUR 40,820 when it was revalued in 2012.
It also appears that Linda did not fully comply with the legal asset declaration requirements in 2011 as she did not mention any real estate property despite mentioning income derived from renting an apartment in Tirana.
This is corrected in the 2013 declaration, in which she lists the apartment, as well as two pieces of land in Surrel: 2,528 sq.m., acquired for EUR 8870 lekë on October 13, 2005, 1,955.5 sq.m., acquired for EUR 4042 on July 14, 2008. To this plot, she would later add 886.5 sq.m., acquired for EUR 3234 on February 6, 2015, and in 2017 an olive garden of 2,240 sq.m., acquired for EUR 56,572, which seems to have been largely paid by Edi Rama's sale of his apartment that same year.
Edi and Linda's asset declaration from 2013 lists the new villa in Surrel as being valued at EUR 282,912. The declaration further lists a sum of EUR 86,116 owed to the construction company, for which Rama received a loan of EUR 80,000 from Intesa San Paolo Bank on October 22, 2013.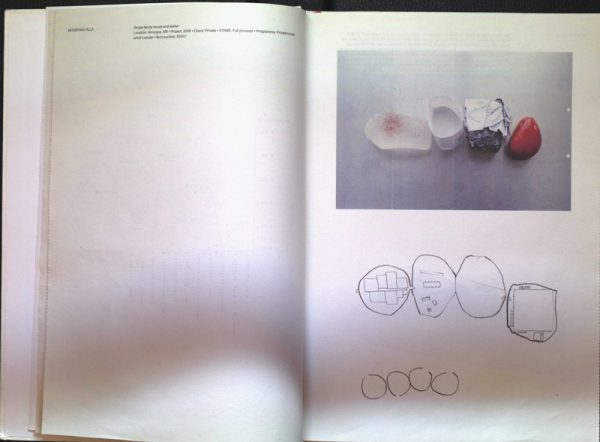 Furthermore, the project was designed by Belgian architecture firm 51N4E who never acknowledged they designed his villa. It does however feature in one of their catalogs but is described as a mountain villa in Greece. The project was dated 2008, four years before it was actually built and two years before Edi and Linda got married. 
This ties in with the purchase of land by Linda in Surrel in 2008. Yet the project was not started until 2012 when Rama was exempt from providing asset declarations.
You can read more about the house in Surrel here.