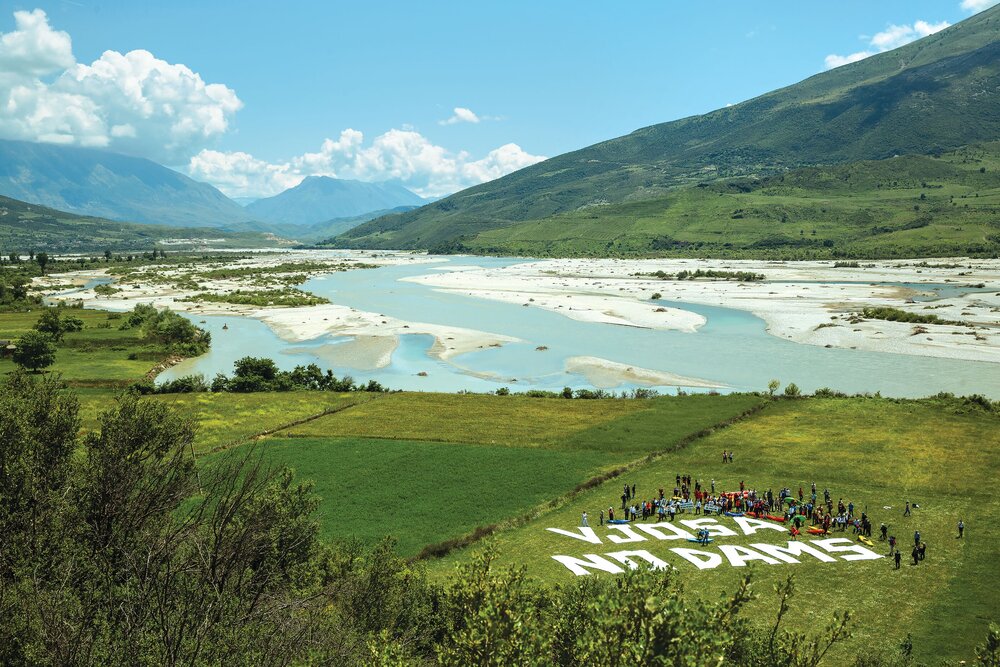 Hydropower plants are not green, not sustainable, not cost-efficient, and are sending species to extinction and displacing populations not just in Albania, but across the world.
This is according to Ryan Gellert, CEO of Patagonia who gave an exclusive interview to Exit on the campaign to save the Vjosa River in Albania.
He explained that hydropower is antiquated technology and that its classification as a "renewable energy" is a "dated notion".
"Hydropower is the only renewable energy that is sending species to extinction, displacing people, and contributing to climate change. It's not renewable energy, that's a dated notion. Albania should be seeking proper renewable energy…I would encourage the government to consider which other technologies they could pursue," he said.
Gellert, who has been working for the "activist company" since 2014 added that there is no such thing as a green and sustainable hydropower plant and that "all negatives outweigh the benefits, 100%".
Finding a renewable energy source that works for Albania is an important task and Gellert suggested that solar power and wind power would be a much better source for consideration.
"Hydropower held promise generations ago, but we have come to understand its true cost. Solar and wind are the most interesting opportunities we have now. They can be installed, leveraged, removed, and replace with lower impact options, unlike hydropower."
He explained that the cost financially, economically, and environmentally of building HPPs is incredibly high and once they have served their purpose, companies rarely remove them as it costs too much. Instead, they remain, continuing their devastating impact on the environment.
In particular, small HPPs like those planned on the Valbona River in north Albania are of serious concern.
"Small HPPs have a devastating impact on the environment. They create very little energy but massive amounts of damage. They drain river systems of all their water and are incredibly damaging to the environment," Gellert explained.
There are currently more than 3000 HPPs planned across the Balkans, including many on the Vjosa River. Gellert explains that the Vjosa is a truly unique eco and river system that must be preserved.
"I have traveled extensively around Europe and the rest of the world in every kind of mountainous and natural landscape. I have visited the Vjosa and rafted down it and I can say it's one of the most beautiful places I have ever visited, anywhere. What the Albanian people have in the Vjosa is unique across both Europe and the world."
What's at stake, he added, is Europe's last free-flowing river that stretches some 272km from Greece to the Adriatic. He explained it's home to more than 1100 species including around 140 that are protected under Albanian law. Furthermore, around 40 of them are threatened species and designated as such internationally.
"But there are certainly more than just these, as we still have to explore much of the area," he added.
But it's not just flora and fauna that's under threat. Gellert explained many communities have lived alongside, off, and in harmony with the river for centuries.
"The lives of these people and the cultures of their communities- this is what's also at stake if we get it wrong."
The issue of HPPs on the Vjosa has stirred up controversy both domestically and internationally over the last few years. In 2016, the Albanian government violated EU rules when it awarded a contract to build the Pecem HPP on the river.  An investigation by the Secretariat of the Energy Community found that the administrative procedures followed for the project were not in line with EU directives.
The Albanian government failed to respond.
The plant was set to be built by a Turkish company via an unsolicited proposal. The project is currently being stalled in ongoing court cases.
In September 2020, Prime Minister Edi Rama wrote that HPPs on the Vjosa would not be built. Three months later, the National Council of the Territory (KKT) chaired by him, approved the new boundaries of protected areas.
The KKT meeting was held in secret. The announcement on the website of the Territorial Development Agency (TDA) was published a day later when the meeting was over.
But the maps submitted to KKT, provided by Porta Vendore from sources that possess accurate technical information to the country's planning agencies, reveal that the Vjosa River on which the controversial Poçemi and Kalivaç hydropower plants are planned to go ahead with being built.
Another territory, along the southern border of the Karaburun Reserve, part of the protected area, was stripped of its protection status.
Therefore the integrity of Rama's tweet is called into question as it seems that while some areas will be protected, the areas where HPPs are proposed will not be included. Furthermore, other areas have had their protection removed, paving the way for further development.
Gellert addressed the issue of 'mixed signals' from Albanian authorities. On one hand, he said, they have made some statements about protecting the Vjosa, but on the other, there has been no solid commitment to make the Vjosa National Park or to shut down any current development plans.
"We haven't been able to get any soundbites [from the government] that make me confident we are going in the same direction," he said adding that the Albanian government now has a tremendous opportunity to provide leadership on this Balkan, European, and international issue.
"The decimation of wild, Balkan rivers has got to stop. We are at a point as a species where we have to think differently about how we live in harmony with nature. What a tremendous opportunity for Albania to provide a clear example on this."
His message to the government was clear- listen to the people and take this opportunity to do something truly inspirational.
"Now is the time to listen to what the polls say- 94% of Albanians are in favor of the Vjosa National Park. Step up, sign the pledge, and give your support to it. You will be doing something that's never been done before,' he said.
"This is an opportunity to do something that rarely comes along in political life, and that's to build and support a legacy project. Provide leadership across Europe and the region to create Europe's first free-flowing, river National Park. Albania can provide this leadership not just on a Balkan or European issue, but on a global one as well."
To the Albanian people, Gellert's message was clear. With the elections coming up in a month, he asked them to apply pressure with their voting power.
"You can play a critical role in saving a unique national treasure. You don't need to protest in front of Rama's office- share the Vjosa Forever film, ask your candidates if they support the designation of the Vjosa as a National Park, apply pressure, and exercise pressure by using your vote. Get your candidates to commit to it politically," he implored.
Just yesterday, Kosovo's new Prime Minister Albin Kurti spoke out in favor of the Vjosa and the National Park.
Through a Facebook status, Kurti demanded that the new government after April 25 declare the Vjosa River a National Park.
"Vjosa, the river that connects Albania with Europe, is a wealth and heritage not only national but also European. Wonderful canyons, rapid and unimpeded flows, a unique ecosystem and the 1,100 species that take refuge in it make the Vjosa the most unique river in Europe. " writes Kurti.
He adds that even after calls from residents, international organizations, and the European Parliament to declare Vjosa a national park, nothing has been done.
Actor Leonardo DiCaprio and local and foreign organizations have also defended the Vjosa River. President Meta also called on the government to declare the Vjosa River a National Park.
But so far, the Albanian government is silent and it seems that the fate of Albania's rivers, communities, and ecosystems lies in the hands of politicians, construction magnates, and sordid agreements made behind closed doors.