Albanian's trust in the new justice institutions independence and effectiveness is decreasing, according to a recent survey by the Center for the Study of Democracy and Governance (CSDG), supported by the German Friedrich Ebert Foundation.
They published "The Albanian Security Barometer 2020" on Wednesday, a survey that highlights the attitudes and perceptions of the public opinion regarding internal and external security threats, the performance of security and justice institutions, and the importance and effectiveness of security-related policies, measures, and actions.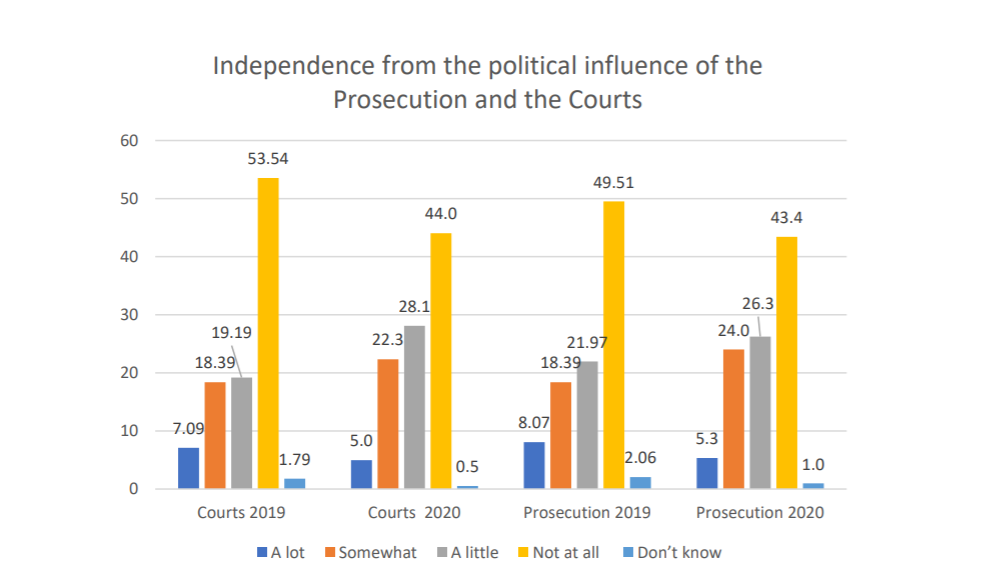 What stands out from the study is the lack of trust in justice reform institutions. The majority of respondents believe that justice institutions are politically influenced.
"Regarding the independence of justice institutions from political influence, a large percentage of citizens, over two-thirds, think that these institutions are only little or not at all independent," the survey notes.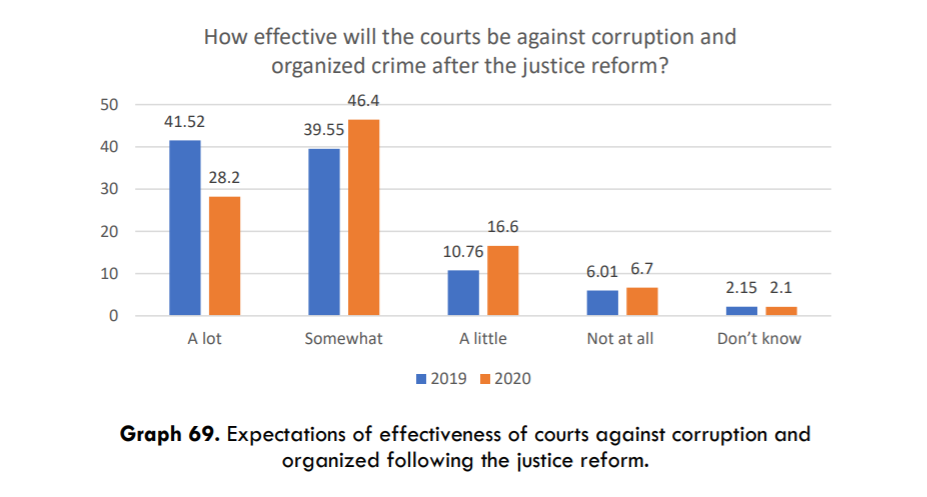 There is a significant decrease in the percentage of citizens who believe that the special prosecution and courts will increase the fight against corruption.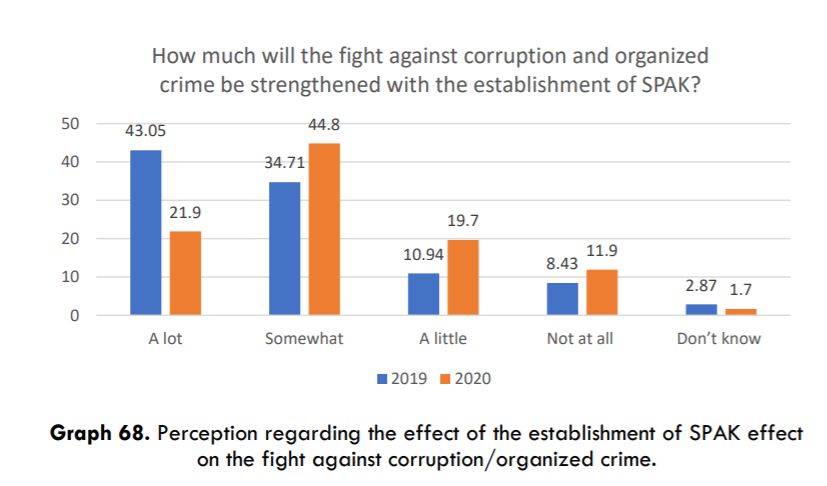 "When compared to 2019, there is a significant decrease in the percentage of citizens who believe that with the establishment of the Special AntiCorruption Structure (SPAK), the fight against corruption and organized crime will be strengthened and that the effectiveness of the courts will increase after the justice reform," it states.
Corruption and organized crime continue to be seen as the main obstacles to EU integration by the vast majority of citizens.
Citizens do not feel safe, they have low trust in state institutions, democratic processes, mechanisms of redistribution and other basic elements of society.
Albanian Customs, State Police, State Intelligence Service (SHISH), and the Military are considered corrupt by the highest percentage of citizens.
A majority of 86.7% think that the Customs are the most corrupt among the government agencies.
The perception of corruption in justice institutions is also high. Some 57.9% of the citizens think that the Office of the Prosecutor General Office is very corrupt, similar to customs.
Trust in the Government, Ministry of Interior and Ministry of Defense is also among the lowest.
Two thirds of the respondents think that police violate citizens' rights, while 70% think police officers are highest with no respect for merit and professionalism.
The US, Germany and Italy are perceived as the three most friendly countries to Albania.
The EU and NATO are thought to contribute to the country's security, and most expect security to increase with EU accession.
There is also an increase in the positive perception of Turkey, China and United Arab Emirates, compared to 2019.
The number of citizens who see environmental degradation/pollution or migrants as the main threat has increased.
About three quarters of those polled think Covid-19 pandemic has had a negative impact on the security of the country, which they expect to continue in the future.