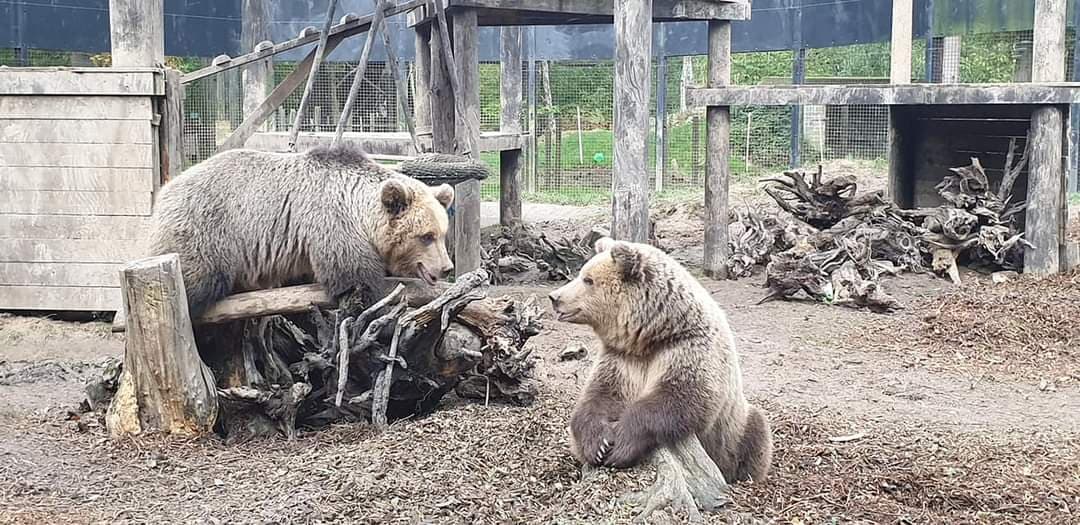 Two bears that were rescued from Albania and taken to the UK are set to be moved to their "forever home".
Misha and Lucy were rescued from "deplorable conditions" in a private zoo in Shkodra by the international animal welfare organization Four Paws. The bears were kept at the zoo which was also a restaurant since they were cubs. They were kept confined to small metal cages with restricted movement.
The owner of the family restaurant/zoo located on the outskirts of Shkodra, just below Rozafa Castle, stated he took the bears in because they would not be able to survive on their own. The zoo which this journalist visited in September 2018 is also home to wild cats, an eagle, monkeys, and other large birds that are kept in squalid conditions.
Carsten Hertwig from Four Paws said in a statement:
"We recently learned that the owner of the restaurant, who also owns the bears, plans to start renovating his restaurant. This means the bears need a new home quickly. In addition, organizing international wildlife transport within a few weeks is a huge logistical challenge."
The owner of the zoo had reportedly been under increasing pressure from patrons and activists to close the zoo due to concerns over the animals living conditions.
"The cramped, inappropriate living conditions are very stressful for the animals, both physically and mentally. Many of them are in poor general condition," said Fiona Miles, Four Paws country director.
The bears were initially sent to Belgium before going on to the Wildwood Trust in Kent, UK.
After two years there, they will be transferred to a 1.5-acre "custom-built woodland" in Escot. Here they will be able to explore, play, and forage as they would in the wild while being in a safe environment.
Director of the Wildwood Trust, Paul Whitfield told the media:
"Mish and Lucy have become firm favorites here at Wildwood and while we will all no doubt miss them, we're so excited for them to head down to our sister site to their forever home."
He added:
"After a tough start in life, we're delighted to be able to offer the cubs a fresh start. We've been building their new home since they arrived with us last year, it's so exciting to see it come together and filled to the brim with fantastic features for Mish and Lucy to enjoy."
The bears have been presented with gifts from their keepers including toys stuffed with their favorite foods; sweet potatoes and apples.