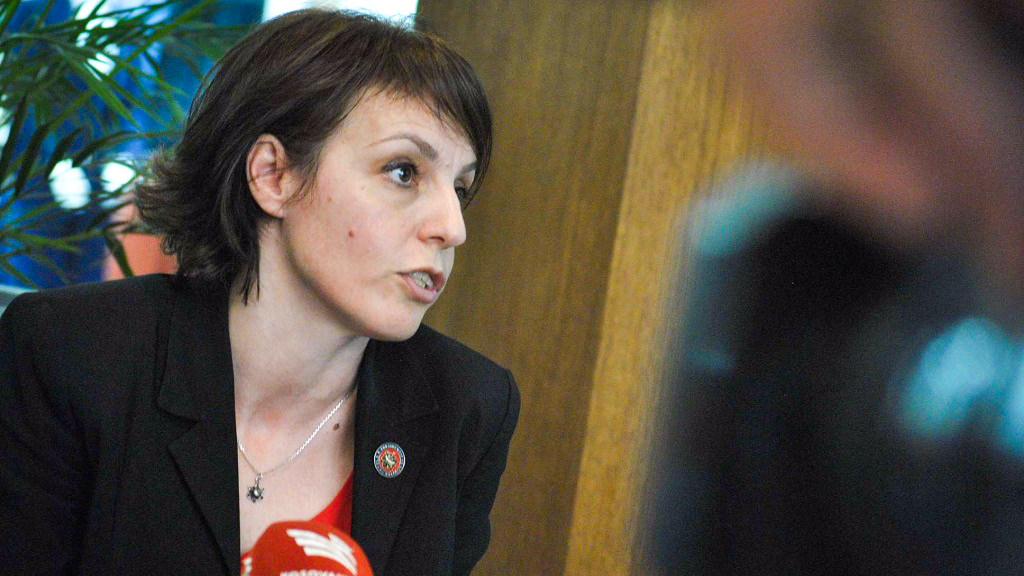 Kosovo Foreign Minister Donika Gervalla told a meeting of the UN Security Council on Tuesday that her country will continue talks with Serbia despite the latter's genocides in her country and in Bosnia and Herzegovina.
"Our small but special country does not fear. On the contrary, we will continue talks even with those who are responsible for conflicts and genocides in Bosnia and Kosovo in the last decades," Gervalla said in her speech during a meeting of UNSC members on Kosovo.
Minister Gervalla listed a number of prominent figures in Kosovo who suffered under Serbia's rule and massacres, while stressing that her people are not afraid to face the past.
"Many people in Kosovo have very painful experiences with Serbia. Our Prime Minister [Albin Kurti], for instance, was tried in a public trial as a student by the Serbian regime and was ill-treated in Serbian prisons for two years," she started.
"The Deputy Speaker of the Assembly of the Republic of Kosovo, survived a massacre when she was 13 years old; a massacre committed by Serbs, in which her mother, grandmother, two brothers and other cousins were killed. The girl was found with 16 wounds and barely survived," Gervalla said about Saranda Bogujevci, a survivor of a Serbian massacre, now deputy speaker of parliament.
The minister went on to speak of Vasfije Krasniqi-Goodman, an MP now, who was raped by Serbian troops when she was 16 years old.
"One of the youngest members of parliament with the most votes was raped by Serbian forces when she was only 16 years old. She took the courage to overcome the burden and talked about her experiences. She is the voice of over 20,000 raped women. None of the Serb perpetrators have been tried for the crimes committed," the minister told the UNSC.
Minister Gervalla also spoke of the killing of her father, Jusuf Gervalla, by Serbia in Germany in 1982. He was an activist for the liberation of Kosovo from Serbia.
"My father was killed by the Belgrade regime in a foreign land, in Germany. I tell my children that it is not about Serbs, but Serbia must make the difference, it must bring war criminals to justice," Gervalla said.
The EU-facilitated dialogue between Kosovo and Serbia is expected to resume following February elections in Kosovo and the subsequent formation of the new government led by Prime Minister Albin Kurti.
The new majority in Kosovo's parliament has promised to sue Serbia in international courts for what it calls genocide against Albanian civilians during the war in 1998-99.