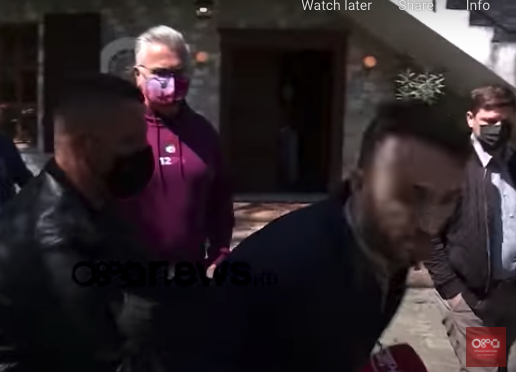 A journalist for Ora News, Isa Myzyrai was restrained with force by the bodyguard for Mayor of Tirana Erion Veliaj.
The incident was caught on camera as Myzyrai was attempting to ask him questions about construction and ongoing development in the city following a political event in a Tirana cafe. One bodyguard can be seen grabbing the journalist from behind and pulling him away from Veliaj.
He identifies himself as a journalist multiple times and asks him not to touch him. Yet the bodyguard continues to grab him and drag him away.
This is not the first time Veliaj's bodyguards have behaved in a similar manner with journalists or members of the public.
In January 2019, Veliaj was at a meeting with female students in Tirana. After one of those present challenged him over his projects and the death of 17year-old boy Ardit Gjoklaj, a bodyguard tried to seize the phone of one attendee who was filming. They then removed the students who spoke out against Veliaj from the room.
In April 2019, journalist Artur Cani was harassed by police and prevented from filming an activity including Veliaj at the Lake Park in Tirana. Immediately, Veliaj's bodyguards stopped and attempted to take the phone from him. Police then tried to take him to the police station, but eventually, the situation was diffused. 
Also in 2019, a bodyguard of Veliaj found charges filed against himself after he "hugged" female journalist Sonila Musai with the intention of stopping her from asking questions to Veliaj.
In 2020, an Exit journalist contacted Veliaj to ask questions about allegations he had plagiarised the work of a foreign artist, Clet Abrahams. 
He replied by accusing the journalist of being a troll, a fascist, working for the Russians, and not being a journalist. He then blocked them on all social media platforms.
Regarding the most recent incident, Koloreto Cukali, head of the Albanian Media Council said that the reaction of the bodyguard was wrong as the journalist was just doing their job.
"In the published videos, it is clear that the movement [of the journalist] was forcibly blocked by the individuals accompanying the mayor. The only 'crime' of the journalist was putting a microphone in front of Veliaj, a very normal practice in Western countries."
Myzyrai said:  "His companions not only obstructed me but held me by the hands and exerted physical pressure so I could not move until Veliaj got in his car and left."