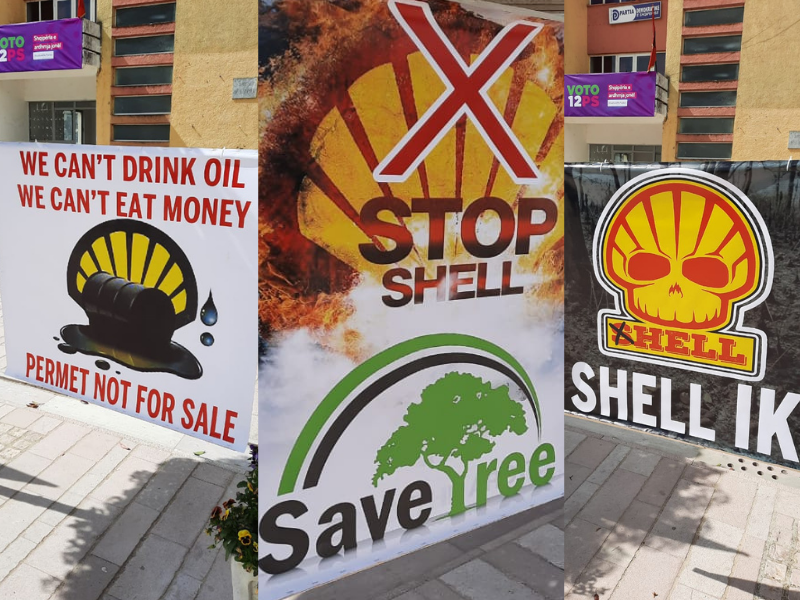 A group of residents from the banks of the Vjosa river between Permet and Kelcyre have gathered in front of the Municipality of Permet to protest against oil company Shell's ongoing oil exploration.
Exit witnessed between 90-100 people congregated in the square, voicing their concerns over the project.
In 2018, the government signed a EUR 40 million contract with Shell to explore for oil in the "Block 4" region. This includes swathes of countryside and parts of the Vjosa River. Residents claim they have been clear Shell are not wanted there, but yet the work continues.
Shell said in a statement to Exit that they have consulted with locals and keep them up to date on what is happening.
Signs included "SHELL IK" (Shell go), "Save trees, stop Shell", and "We Can't Drink Oil, We Can't Eat Money- Permet Not For Sale."
One resident stated "If you want Permet to have a future, you have to stop this. Tourism is the future of Permet."
Another stated, "We don't want Permet to become the next Ballsh."
One protestor was so upset by the prospect of their land being used for oil, they said; "If they don't listen to us, we will set their equipment on fire. Permet is not for sale!"
Olsi Nika from EcoAlbania said, "this is just the beginning of something bigger". Another added, "stop drinking coffee people, that will be your doom!"
Exit previously discovered that a company called GEOTEC was conducting a geophysical survey in the area. Shell informed Exit that this was being done to "photograph the subsurface with the objective of understanding whether there is oil and gas potential in the area".
Residents shared photos of heavy machinery, plastic, and churned-up earth in the countryside surrounding the exploration works.
Elona, who declined to use her last name due to fear it could impact her business, told Exit:
"We don't want oil exploration here. The future is tourism."
When asked about whether Shell had dialogue with her and others, she said:
"We said no 1.5 years ago when they came to ask. No one wanted them here. Now they came back as they didn't listen to us. We do not want them here."
The Vjosa River, Europe's last wild river is currently the center of an international campaign to designate it as a National Park, therefore protecting it from hydropower plants and oil exploration. Prime Minister Edi Rama has designated parts of it as a Protected Area but has failed to increase its protection. This is likely due to the contact with Shell as such a designation would make the contract untenable.
Surveys show that 94% of Albanians want the Vjosa River to be designated as a National Park.
The Vjosa is one of the last remaining untouched and unspoiled 'wild rivers' in Europe. It is widely recognized as having one of the most prominent and important ecosystems in the region, if not the world, and is home to a number of protected and rare species.