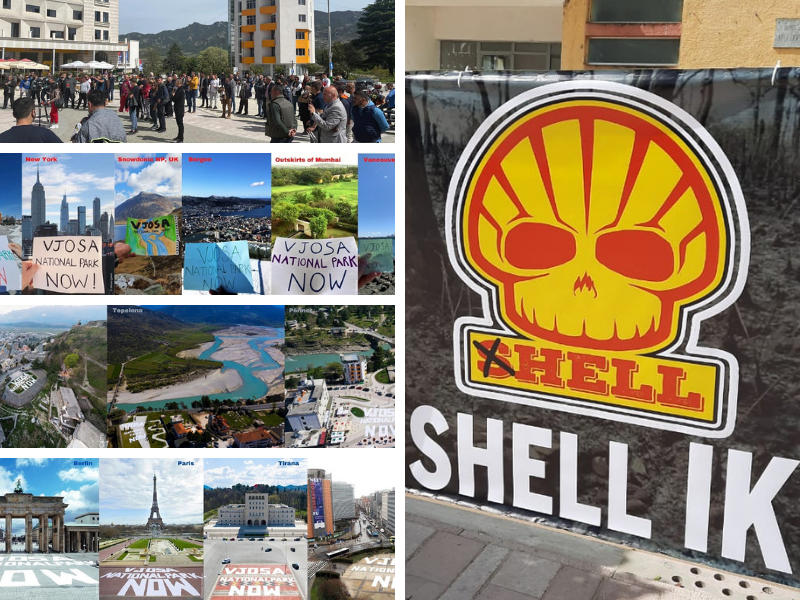 Albania's government must prioritize the protection of Albania's precious environment from hydropower plants and oil companies such as Shell.
This is according to a joint statement issued by Riverwatch, EcoAlbania, Patagonia, and EuroNatur the day after the result of the general election in which the Socialist Party won a third term.
Ulrich Eichelmann from Riverwatch said:
"The new government must prioritize the protection of Albania's precious environment, starting with the Vjosa. Without appropriate protection, the area will be 'eaten up' by uncontrolled expansion of tourist resorts in the delta region, dams in the middle, and oil drilling in the upper part of the river. That´s why we will continue this fight until the Vjosa is designated as a national park."
Currently the Vjosa River is under threat from Hydropower plants, the proposed Vlora Airport, and oil exploration and drilling by Shell. A 25-year contract worth EUR 40 million was signed in 2018. Yesterday in Permet, more than 100 residents protested against Shell and oil exploration in the area, stating that tourism is their future, Permet is not for sale, and that Shell should go as they are not welcome.
The statement notes that as a result of campaigning, Prime Minister Edi Rama's government has agreed to make parts of the Vjosa a "nature park" and give it "protected status". But contrary to the name, and despite it being a good first step, this doesn't actually protect it from dams, oil exploration, airports, and tourist resits. It also excludes streams and tributaries that lead to the main river.
The designation given by Rama does not protect it from harmful activities.
"To fully safeguard the river and use its potential for eco-tourism, the government needs to protect it to the highest international standards by designating it as Europe's first Wild River National Park."
Olsi Nika from EcoAlbania added; "While the titles 'nature park' and 'national park' sound very similar, they couldn't be more different in terms of the level of protection they offer. Only a national park can fully and legally protect this beautiful ecosystem from future development."
The organizations have urged the new government to take steps to improve protection measures along the Vjosa. They include:
upgrading the protection category from nature park to a national park and
extending the protected area by including also the tributariesZagoria, Kardhiqi, Bënça, and Shushica.
They concluded that "Albanian citizens, national and international scientists, and environmental organizations stand ready to help Albania protect this national treasure and support the new government to make this a reality."