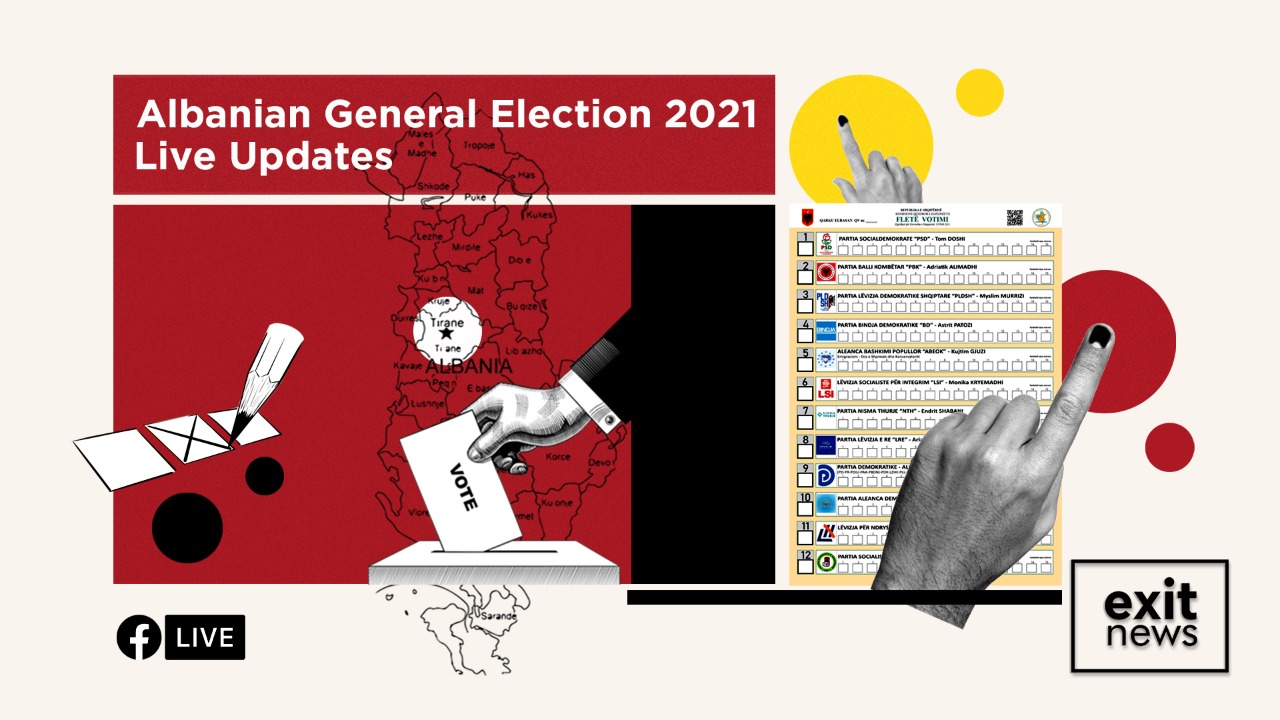 The competition for who will sit in Albania's parliament continues today. As votes are being counted, Exit brings you a tally of who received which votes, where, and reactions from key stakeholders.
14:27
General Prosecutor Olsian Cela has urged prosecutors to speed up investigations of election crimes.
Cela stated that prosecutors should increase the intensity and priority of procedural actions, to ensure a full investigation of cases in the framework of fair and legal proceedings
13:30
Chancellor of Austria Sebastian Kurz congratulated PM Edi Rama on winning the parliamentary elections again.
Kurz stated that Austria looks forward to further fostering strong bilateral relations in Albania to fight the Covid-19 pandemic and to support Albania's EU accession process.
12:30
In the Berat district, the candidate ballot counting has finished. Blendi Klosi is first for the Socialist Party, whereas Tomorr Alizoti is first for the Democratic Party.
11.46
Ex-Minister of Interior Fatmir Xhafaj secures the necessary votes to become an MP
Fatmir Xhafaj has received more than 12,564 votes.
Xhafaj is the most voted socialist candidate in Tirana. Behind him are Belinda Balluku and Orlando Rakipi.
Xhafaj was Minister of the Interior before resigning after his brother was arrested for drug trafficking.
10:33
German Ambassador Peter Zingraf congratulated Socialist Party and Democratic Party on the election process on April 25th.
In a statement to the media, he called for investigations into allegations of electoral crimes, vote-buying reported in a previous OSCE / ODIHR report.
Zingraf called for cooperation between political actors to accept the election result.
The Ambassador congratulates the Socialist Party for the victory and the Democratic Party for the electoral increase obtained during these elections. "A healthy democracy needs a strong parliamentary opposition as well as its active involvement and contribution", he added.
10:09
British Ambassador to Albania, Duncan Norman congratulated the victory of the Socialist Party on the results of the parliamentary election and marked the achievement of the Democratic Party on the electoral gains.
He called on the institutions to investigate the irregularities reported by the political parties: "We encourage Albanian institutions to investigate all alleged irregularities."
"We were happy to witness citizens voting in large numbers", he wrote on Twitter
10:06
CEC Chairman Ilirjan Celibashi has said that anyone found to have manipulated the counting process will face legal repercussions.
"Violation of the vote of each candidate will result in a criminal sanction of up to 7 years in prison, for any of the counters or commissioners involved," Celibashi wrote on Twitter.
He stressed that "the CEC has the film footage of the evaluation of each vote, made in the phase of issuing the result for the parties and coalitions."
10:00
The 10 most voted deputies in these elections so far are:
1. Taulant Balla PS 17,836
2. Bledar Çuçi PS 11,8
3. Edi Rama PS 11,412
4. Niko Peleshi PS 11,320
5. Saimir Hasalla PS 11,051
6. Blendi Klosi PS 10,381
7. Erion Braçe PS 10,052
8. Aurora Mara PS 9,367
9. Flamur Hoxha PD 9,159
10. Ervin Salianji PD 9,131
09:56
The counting of candidates' votes was completed in 9 constituencies in the country. From the PD list the most voted candidates are:
In Berat, Tomorr Alizoti with 4335 votes;
In Dibër, Dibër Xhelal Mziu with 5321 votes;
In Elbasan, Luciano Boci with 11076 votes;
In Fier, Agron Kapllanaj with 9225 votes;
In Gjirokastra, Tritan Shehu with 3364 votes;
In Korça, Ervin Salianji with 9428 votes;
In Kukës, Flamur Hoxha with 9159 votes
In Lezha, Kastriot Piroli with 6411 votes;
In Vlora, Bujar Leskaj with 5254 votes.
09:30
The counting of candidates' votes was completed in 9 constituencies in the country. From the SP list, the most voted candidates are:
In Berat, Blendi Klosi with 12147 votes;
In Debar, Dionis Imeraj with 5154 votes;
In Elbasan, Taulant Balla with 21,604 votes;
In Fier, Erion Braçe with 14058 votes
In Gjirokastra, Bledar Çuçi with 11,932 votes;
In Korça, Niko Peleshi with 11479 votes;
In Kukës, Gerta Duraku with 5368 votes;
In Lezha, Eduard Ndreca with 7069 votes;
In Shkodra, Paulin Sterkaj with 7335;
In Vlora, the most voted candidate is Edi Rama with 11412 and after him is ranked Anila Denaj with 6428 votes.