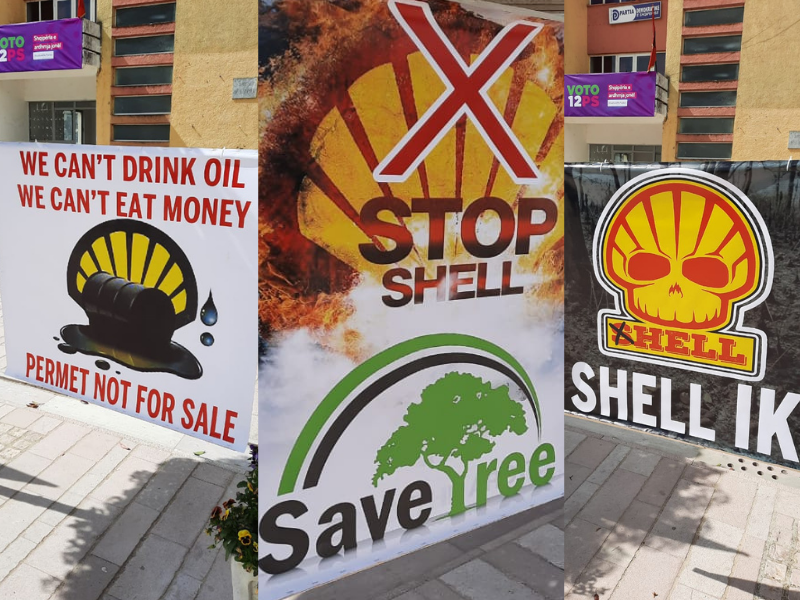 Residents of Permet, Kelcyre, and other towns and villages on the banks of the Vjosa River in Albania have started a petition against oil company Shell, which they intend to send to the Council of the European Union, the United Nations Environment Programme, and the Environmental Protection Agency.
Shell are currently exploring 'Block 4″ in the south of the country, which includes pristine countryside, communities that rely on tourism, and of course, Europe's last wild river, the Vjosa. In communication with Exit, Shell said they had consulted with local communities and stakeholders but they declined to embellish on what the outcome of those discussions was.
Local residents protested earlier in the week against Shell. They held banners saying "SHELL IK" (Shell go), and "Permet is not for sale". They state that tourism is the mainstay of the local economy and that drilling for oil will destroy this. They also raised fears over the impact it could have on the Vjosa River which has been subject to an international campaign to get it protected through National Park designation.
So far, Prime Minister Edi Rama has given in "protected" status but this does not protect it from oil exploration, hydropower plants, airports, and the development of large tourist resorts, all of which are threatening its unique ecosystem.
The Rama government signed a contract with Shell in 2018 for around EUR 40 million. If oil is found, Shell will be able to exploit the area for 25 years.
The petition states:
"The whole community is very concerned. In the public hearings conducted by SHELL representatives in Albania, the residents unanimously said NO to the search for hydrocarbons in this area. We all know very well how dangerous this is for the ecosystem, health, tourism, agriculture, fragile cultural monuments that are endangered by explosions, etc. "
They accused Shell of continuing the work, despite local residents opposition;"They continue the works regardless of the will of the residents…We strongly believe that the future of the whole district of Permet is tourism which can not exist in parallel with oil and gas wells and refineries. Join this petition to raise your voice together to protect nature and sustainable development through tourism and agriculture. Sign for the future!"
Yesterday, a coalition of local and international groups including Riverwatch, Euronatur, EcoAlbania, and Patagonia released a statement calling on the new government to protect the Vjosa from oil exploration, hydropower plants, and other threats by designating it as a National Park.
At the time of writing, the petition has almost 1000 signatures.