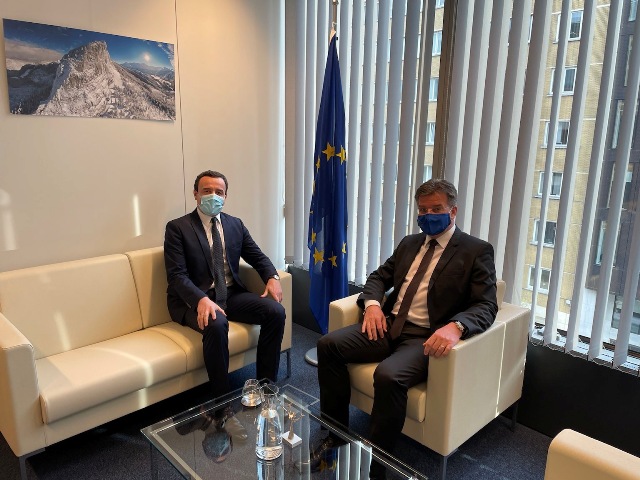 The Prime Minister of Kosovo, Albin Kurti met the EU special envoy on Pristina-Belgrade talks, Miroslav Lajcak on Wednesday evening in Brussels.
Lajcak said that Kurti's visit to Brussels offered an important opportunity to continue "our substantive and constructive discussions from March".
"We spoke about the details of the Dialogue and both our expectations as part of Kosovo's European path," Lajcak wrote in a Twitter post.
During his visit in Pristina, in March, Lajcak said he expects for a comprehensive agreement between Kosovo and Serbia to be reached within the governing mandate of Vetevendosje's leader, Albin Kurti
Prime Minister Albin Kurti said the discussion with Lajcak on Wednesday was constructive.
"I reaffirmed that dialogue must be principled and well prepared. It must accept the reality and the truth, be equal and address unresolved issues, not create new ones," Kurti wrote after the meeting.
Kosovo's Prime Minister has a two-day visit in Brussels. On Thursday he will meet the EC President Ursula Von Leyen, top EU diplomat Josep Borrell and Commissioner Olivér Várhelyi.
He told media on Wednesday that his Brussels visit aims at strengthening Kosovo's relations with the EU.