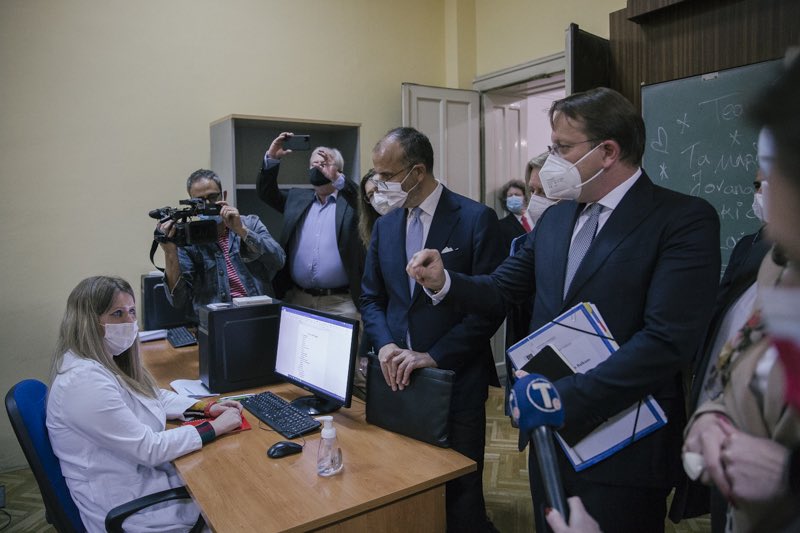 EU Commissioner Olivér Várhelyi started his visit of the Western Balkans in Serbia on Monday. He will be delivering to each country the first batches of the COVID-19 vaccines funded by the European Union.
In his remarks in Belgrade, Várhelyi noted that Serbia is the most successful country in the region with the vaccination campaign.
"We want to help the region to secure and to create the necessary resilience against the pandemic. And this is why I am so happy that we have been able to actually start the delivery of the 651.000 doses to the region," he said.
Thus EU assistance with vaccines adds those donated through the World Health Organization (WHO) mechanism, COVAX.
"Through COVAX and the European Union we will be delivering almost a million doses of vaccines to the Western Balkans," Varhelyi said.
The EU Commissioner also thanked Serbia for helping regional countries with vaccines it could secure.
Serbia donated vaccines to Montenegro, Bosnia and Herzegovina and North Macedonia.
It has one of the highest vaccination rates in Europe, thanks to its use of the Chinese Sinopharm and Russian Sputnik V vaccines. Serbia has also employed Pfizer and AstraZeneca vaccines.
"So it is now our turn to give some back to Serbia, some of the help it has been providing already before us to the region. And I think this support was also appreciated not only by the region but also by us and the continent," Várhelyi said.
Calling on everyone to receive the vaccine, he said this is the only guarantee for the world to put an end to the pandemic.
Oliver Várhelyi will continue his visit in Bosnia and Herzegovina, Montenegro, North Macedonia, Albania and Kosovo.