Albania has become a hotspot for the trafficking, cultivation and production of various types of drugs.
In 2019, 5.4 tons of drugs were seized in Albania according to a recent report by Global Initiative Against Transnational Organized Crime in 2020, which shows that criminal groups from Western Balkans were key players in the global drug business.
Serbia is one of the countries in the region with the largest quantity of drugs confiscated.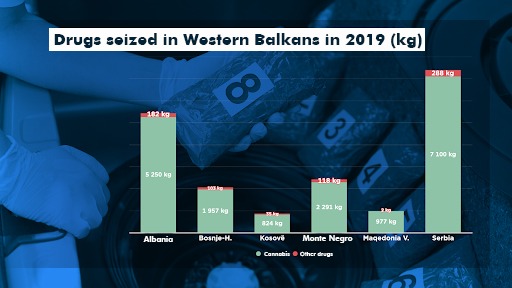 According to the report, Albania during 2020 was ranked as the largest producer of cannabis in the Western Balkans and one of the most important hubs in the region for processing and transporting hard drugs, such as heroin and cocaine, from East to West.
The report pointed out the city of Elbasan as one of the most important locations of drug trafficking and manufacturing.
Cocaine entering Albania usually comes through the Port of Durres, which is also a prominent terminal from where cannabis and heroin enter the country.
In addition to organized crime gangs, drug trafficking in Albania is facilitated by state structures, police and customs authorities as well as transportation companies.
Albanian organized criminal groups also cooperate with Macedonian and Serbo-Montenegrin gangs in the Western Balkans.
Cannabis
Albania remains the main source country for cannabis cultivation, and trafficking route for its transit to Europe. Cannabis is mainly cultivated in the mountainous areas of Dukagjin, Kruja as well as Vlora region.
The wholesale price range of cannabis is €1200-1400 per kilogram, and over €2.000 for high-quality cannabis produced in a greenhouse.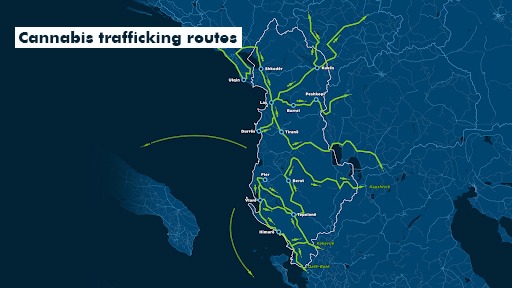 The cannabis trafficking routes are:
Albania-Italy: Departure from Fier, Himara or Lezha towards Italy usually by speedboats.  Cannabis is usually smuggled to Italy in inflatable boats equipped with powerful outboard motors or  speedboats.
Trafficking to Italy is also facilitated by Albanian criminal groups with strong ties to Italian criminal networks that smuggle cannabis across Europe
Albania-Greece: Departure from the Albanian land border crossings of Qafe Bote, Kapshtica, and Kakavije to Greece, or to North Macedonia and then to Greece.
Traffickers use mules and horses trained to carry and deliver the product on the other side of the border.
Demand for cannabis in Turkey also means Albanian cannabis is increasingly transported by land through North Macedonia.
Another itinerary is entry from Montenegro or from Kosovo, transits through Albania and entry to Italy or Greece.
Kosovo is a destination market as well as a transit point for Albanian cannabis.
Cannabis trafficking in Albania is important because traffickers pay not only for transportation but also for its production and manufacturing, seeing that it is cultivated within the country.
Heroin
About 60-65 tons of heroin pass through the Western Balkans each year.
In Albania, heroin mainly enters from North Macedonia or Kosovo.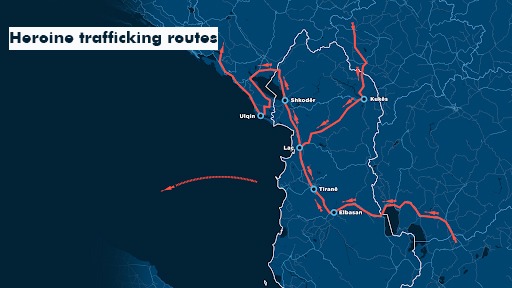 In the last 2 years there has been an increase in heroin traffic by boats from Turkey to Albania.
Heroin is trafficked by sea from Albania  to Italy or by car through to Montenegro.
One kilogram of heroin wholesale in Albania costs €16,500 whereas local consumers buy it for about €20 per gram.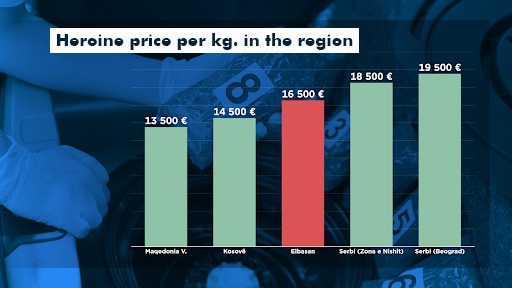 The discovery of a heroin laboratory in Has in 2018 has shown that in Albania opium is trafficked from Asian countries and later manufactured in the country.
Cocaine
Western Balkans is turning into the main gateway for cocaine from Latin America to Europe.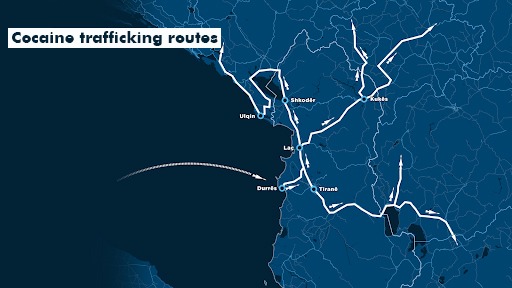 The port of Durres in Albania and the port of Tivat in Montenegro are the main entry points for cocaine in the Western Balkans.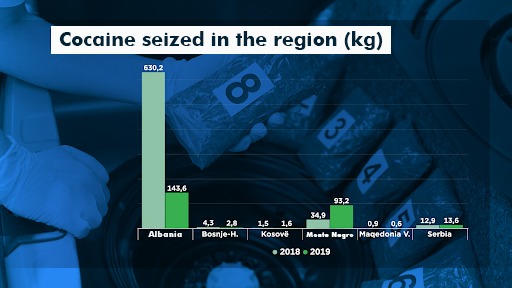 Police seized 630 kg of cocaine in Albania in 2018, and 144 kg in 2019.
From Durrës, cocaine is transported to Montenegro or to North Macedonia, and then to the EU.
The price of cocaine trafficked in Durrës is €25,000-30,000 per kilogram. Once it enters the local markets in the region, its value increases; for example, in Greece it goes up to €50.000 per kilogram.
Cocaine manufacturing has also started to take place in Albania. In 2015, a cocaine-processing lab was discovered in Elbasan.
Adopted for publication from Exit's Editor in Chief Neritan Sejamini's show "In a Few Words" on Euronews Albania.