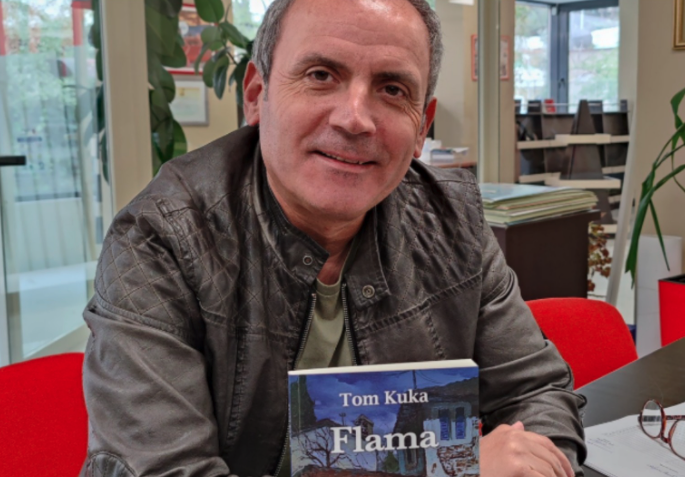 Albanian author Enkel Demi (pen name, Tom Kuka) has been recognized as a Laureate of the 2021 European Union Prize for Literature.
The award recognizes emerging literary talent from across 41 European countries. Held every three years, it aims to spotlight the creativity, diversity, and the immense variety of Europe's contemporary literature scene.
This latest cycle awarded 13 laureates from the participating countries. They were selected by a national jury of experts working in the fields of literature, bookselling, and publishing, among others. 
Mariya Gabriel, the European Commissioner for Innovation, Research, Culture, Education and Youth, and Graça Fonseca, the Minister of Culture of Portugal, congratulated the winning laureates.  
Commissioner Gabriel said: "The EU Prize for Literature celebrates and promotes the incredible creativity and diversity that can be found in Europe's contemporary literature scene. The immense value of literature is more apparent now than ever before. Having lived under the shadow of Covid for more than a year, books have become 'essential'. Congratulations to the laureates!" 
"My congratulations to all the award-winning authors, who thus become part of this honourable list of winners of the European Union Prize for Literature. May their imagination continues to make our reality better through its works and talent," said Graça Fonseca, the Minister of Culture of Portugal. 
Jean-Luc Treutenaere, co-President of EIBF, added: "The past year has been very difficult and challenging for many of us. Faced with a pandemic and the loss of access to many of our favourite and comforting cultural places, books have offered us solace, escape, and adventures. Being able to read diverse novels, from various linguistic and cultural backgrounds, is a great way to interact and get to know new characters, habits, and local cultures from the safety of our homes."
Demi was selected for his latest title, Flama (Calamity). While he wrote it during Albania's lockdown last year, the book's plot revolves around an unsolved crime and features characters from his previous book, Hide mbi Kalldrëm (Jujube on the Cobblestones). 
Other winners include Lara Calleja from Malta, Dejan Tiago Stankovic from Serbia, Gerda Blees from the Netherlands, and Amine al Ghozzi from Tunisia.