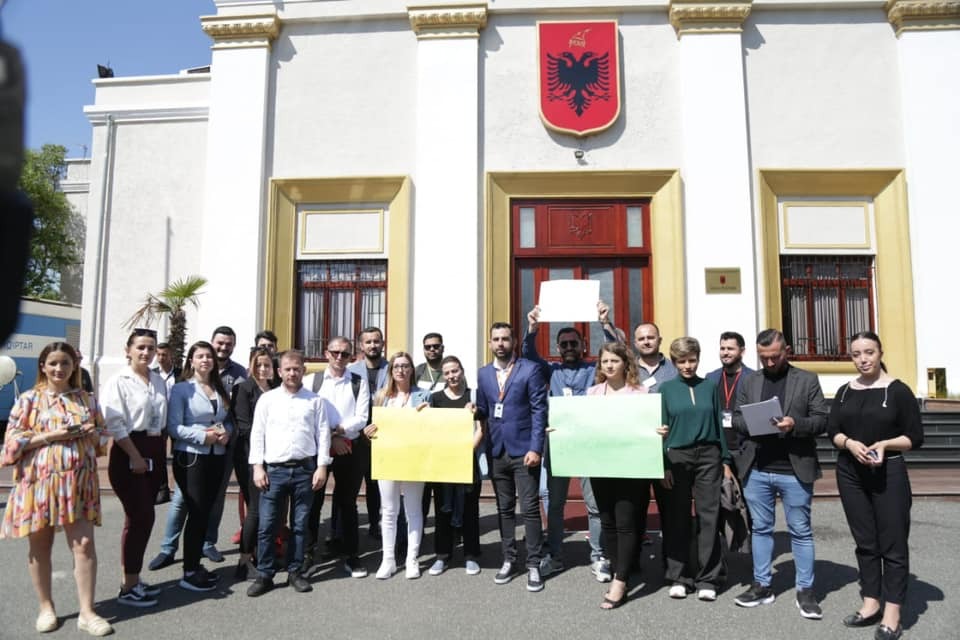 Today, Albanian journalists protested against the government's new media regulation that restricts accredited journalists' access to parliamentary sessions.
This decision has been criticized heavily by the Union of Albanian Journalists, the Institute for Political Studies and journalists themselves, who gathered in front of Parliament this morning in a sparsely-attended symbolic protest. The protest took place shortly before Parliament convened to discuss and vote on the dismissal of President Ilir Meta.
Journalists who cover parliamentary affairs said that they had not been consulted when the new regulation was drafted.
Journalists protesting before Parliament held banners that stated "Free journalist, free society" and "We report what we see, not what they tell us to."
The decision to limit accredited journalists' access to Parliament is a "violation of media freedom," one journalist argued.
"Journalists can only enter a special room designated for the media, from where they can follow the meetings on screen," another journalist said, adding that this violated journalists' independence.
President Ilir Meta criticized Parliament's decision and described it as a hasty move made so that the majority Socialist Party (PS) can bring the Audiovisual Media Authority under its full control.
The opposition Democratic Party called the decision anti-democratic and unconstitutional.
The new regulation, approved on June 2 the by the Socialist majority in parliament, stipulates that accredited journalists can only be accommodated in specific rooms in the parliament building: the newsroom, the building where parliamentary sessions are held, and the room for press statements.