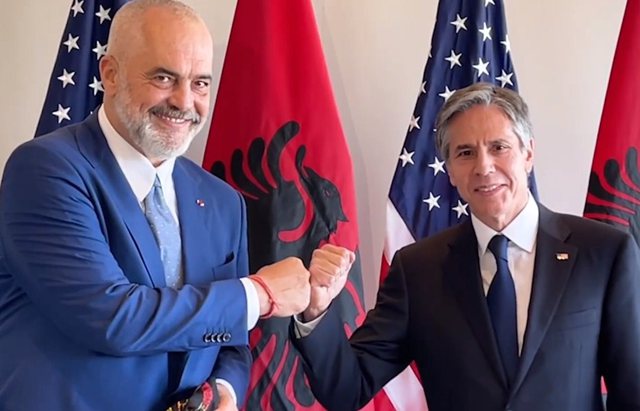 Albanian Prime Minister Edi Rama and US Secretary of State Antony Blinken signed an agreement on Sunday in Brussels on coordinating the two countries' 5G infrastructure.
Blinken's first meeting with Rama was the first with a Balkan leader. It took place before a NATO meeting scheduled for Monday, also to be attended by the Albanian premier. Blinken is accompanying President Joe Biden in his tour of several European capitals.
The US top diplomat praised Rama for setting an example through today's agreement for other regional countries to follow in protecting their 5G networks from untrusted vendors.
Albania is part of "The Clean Network", an US-led initiative that aims at securing digital trust standards across a coalition of democracies. More than 60 countries have joined the initiative so far. Notably, it highlights security risks for countries relying on Chinese 5G technology.
Rama stressed that his government has kept Albania safe from untrusted vendors of 5G technology and infrastructure. He called on all countries in the region to join the US initiative.
The meeting between Rama and Blinken comes amidst increased attention in the region by the Biden administration.
Last month alone, Blinken banned former president Sali Berisha and his family from entering the US, while the said vowed to sue Blinken for defamation.
Meanwhile, a recent Biden order could result in more Albanian and regional leaders getting similar treatment on grounds of allegations of corruption.
During the same time, Albania was one of the major grounds for the US-led Defender Europe 2021 military exercise.
Finally, on Friday, Albania was elected non-permanent member of the UN Security Council for a 2-year-term with the support of the US. 
"We are really grateful for the work the United States and Albania have been able to do together in so many different areas, including Defender 21 exercises. We're very much looking forward to you assuming your seat on the United Nations Security Council", Blinken told Rama.
Read more: Serbia Opens Huawei Tech Center Days after Pledging to Ban 'Untrusted Vendors'