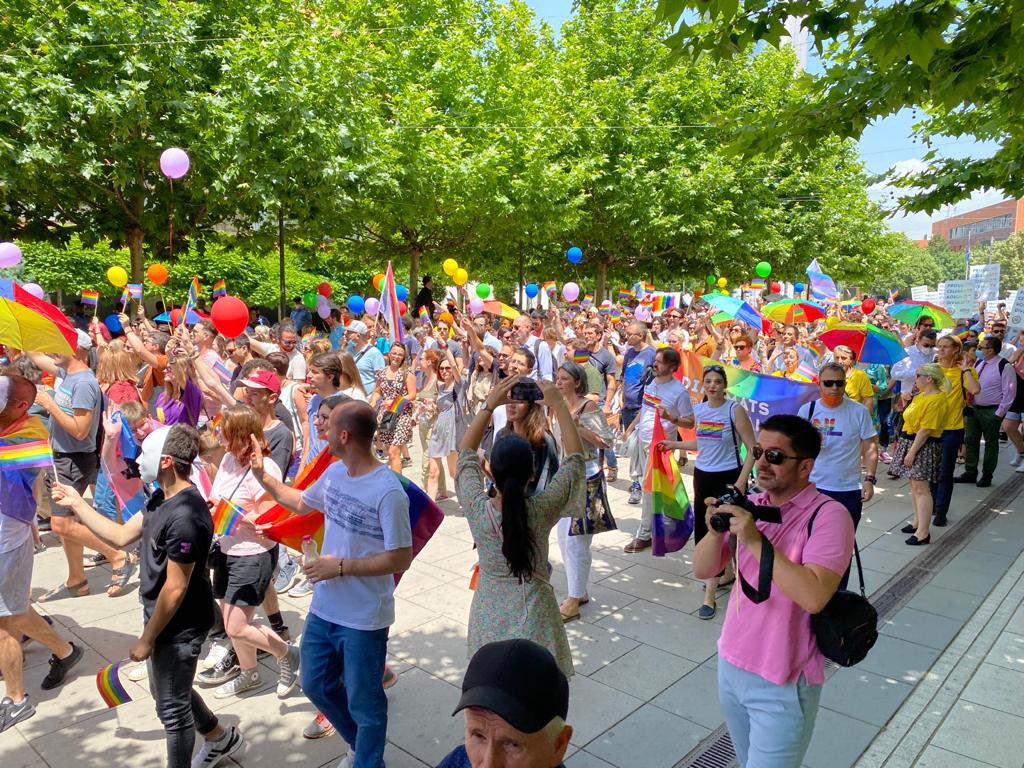 Kosovo's capital of Prishtina held its 5th Pride Parade yesterday, with hundreds of members of the LGBTIQ community and activists celebrating and calling for greater equality.
The event took place after a week of activities held across the capital and was also attended by the Swedish, US, and Finnish ambassadors to the country.
Participants carried banners saying "together and proud", "our message is stronger when our voices are united", "you are not alone", and "love is love". Activists called for solidarity between members of the community to help them overcome the challenges they face. 
They marched from Skanderbeg Square, down Mother Theresa Boulevard, and then headed to Zahir Pajaziti square where a small concert took place. Participants sang, danced, and waved rainbow flags.
Sadly, a small number had to wear masks that hid their identity. As in Albania, some members of the community live in fear of social and familial rejection if their status is revealed.
Another topic raised during the parade was changes made to the Civil Code to allow same-sex marriage. Currently, activists say the civil code denies their human rights but that they will fight together until the law grants them equality.
They also called on the new government to do more to protect them as a community.
The event was also attended by MPs from the ruling Vetvendosje Party, celebrities, and activists, and members of the LGBTIQ community from Albania.
In July 2020, various civil society organizations launched a petition to include same-sex marriage in the civil code. The petition was started after a draft civil code was presented, stating that only a husband and wife have the right to marry. While it allows for the possible establishment of other civil unions via special law but activists said this constituted discrimination on the grounds of sexual orientation.
This is despite the Constitution of Kosovo clearly guaranteeing "the right to marriage and family for all citizens."  This is the same as Albania's constitution which guarantees the same rights, yet does not recognize same-sex marriage.
Concerns have also been raised in Kosovo regarding hate speech used by politicians. These include individuals from both the Democratic Party of Kosovo and Vetvendosje.
However, a positive development in Kosovo is the story of Bert Morina, who was the first trans person to legally change their gender marker and name on official documents.