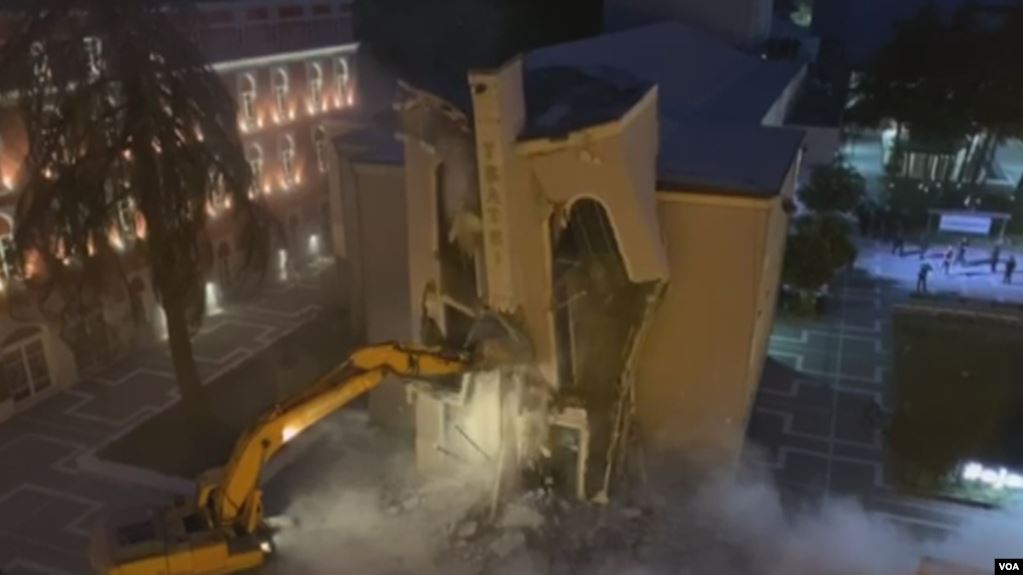 On Friday, the Constitutional Court of Albania ruled on three issues related to the demolition of the Albanian National Theater and the building of a new theater on the same land.
First, the Court repealed the law that stipulated that the construction of the new theater building would be carried out through a public-private partnership (PPP), by giving public land to a private company in exchange for the construction.
Initially, the said law designated private company Fusha shpk to build the theater. Following President Ilir Meta's veto and criticism by the European Union, the Socialist majority amended it to select a private company through a public tender. 
Today's decision means that the theater building cannot be built through a public-private partnership as set out in the repealed law.
However, the decision has no practical effect. The government has already abandoned the idea of using a PPP, and has decided to build the theater with public funds.
Second, the Court decided to repeal the decision of the Council of Ministers that transferred the ownership of the theater building and land from the Ministry of Culture to the Municipality of Tirana.
This decision immediately deprives the Municipality of Tirana of ownership and restores the Ministry of Culture as the owner.
Its main effect is that any further action on the land should be carried out by the Ministry of Culture, and not by the Municipality of Tirana.
That is to say that, if the government is going to build a new theater, as it seems to be set to, the tender and construction contract should be handled by the ministry and not the municipality.
Third, the Court decided not to review the decision of the Municipality of Tirana to demolish the theater building.
Cases in the Constitutional Court are heard in two stages — a quorum of 5 members should first decide on whether to review the matter in a plenary session and secondly, a decision is taken by a majority of votes in the plenary session.
It should be noted that the Constitutional Court examines only whether or not a law or decision has violated the Constitution; it does not rule on its legality from an administrative or criminal point of view.
Therefore, the Court's decision does not mean that the decision of the Municipality of Tirana to demolish the theater did not violate Albanian laws. This can be decided by the Administrative Court.
In summary, the decision of the Constitutional Court has no practical impact on government projects.
The government can build a new theater with public funds, but the contractor will be the ministry, not the municipality.
However, the propaganda effect of the decision seems to be greater.
All parties declared victory, each in its own way — the Municipality of Tirana welcomed the decision, stating that it must now continue the construction project without interruption; the opposition welcomed the decision, and called on the prosecution office to launch investigations into the officials involved.