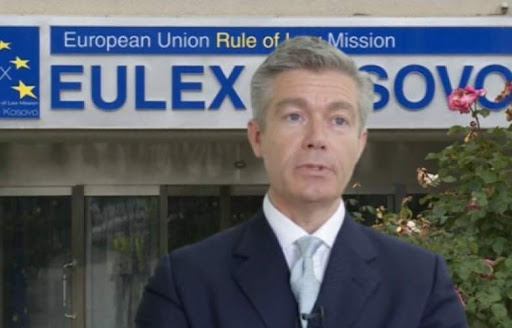 The European Union Rule of Law Mission in Kosovo (EULEX) aimed to clear the country's politics from the "big fish" and those whom it considered against the dialogue with Serbia, former EULEX judge Malcolm Simmons alleged in front of the Kosovo parliament.
Speaking on his own initiative before the Committee of Legislations, Mandates and Immunity on Monday via video call, Simmons alleged that EULEX was not "a rule of law mission but a political mission."
He has spoken to Exit News on numerous occasions on his claims regarding the EU mission's alleged wrongdoings, including political interference in court cases, manipulation of evidence, and witness tampering.
Simmons told the members of parliament that declaring the "big fish" not guilty was considered a failure at EULEX, whose judges he considered tools to achieve political objectives. He added that the mission has not been able to provide protection for witnesses and their families.
The former judge reiterated his claim that in 20014 EULEX transferred war crime files to Serbia's prosecutors, which also contained witnesses' identities. EULEX denied these allegations earlier in a statement sent to Exit News.
EULEX and the European Union have never denied his allegations, he claimed, but instead attacked him personally.
Simmons argued that some of the high profile cases against Kosovo wartime figures, later turned politicians, were "shameful" for the international community, as prosecutors had no evidence to raise charges but did so nevertheless.
In a statement following Simmon's report, EULEX dismissed all allegations as a collection of "ill-conceived and unsubstantiated conjectures, untruths and personal opinions."
Read more:
Former EULEX Judge Informs Kosovo Prime Minister of Alleged Mission Wrongdoings
EU Mission in Kosovo Politically Handled KLA Cases, Claims Former Judge
Evidence of Serbian War Crimes Not Available for Kosovo, Says Ex-EULEX Judge