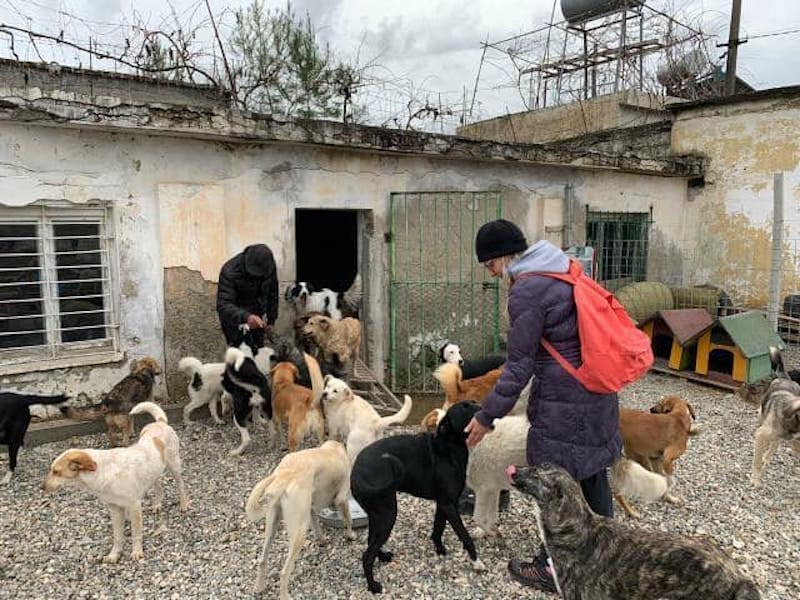 NGOs ask for money all the time. But where does that money actually go? Transparency is at the heart of JETA: Tier und Mench's work and, unlike larger organizations, we have very few overhead costs. And — you can decide where to direct your money!
Read on to learn more about our programmes.
CNVR Programmes
One female dog and her puppies can result in the births of 67,000 dogs in just six years. (Source). In Albania, there are approximately 2,000-10,000 stray dogs per city and anywhere from 4,000-5,000 in Durrës alone. Cat populations are even harder to approximate.
To tackle such a number, it's imperative to implement aggressive castration programmes, known as CNVR (Catch/Neuter/Vaccinate/Release).
CNVR involves:
Catching the animal humanely
Neutering the animal
Vaccinating (Rabies and Polyvalent)
and
Releasing the animal back where he/she was found
CNVR is the most humane, efficient way to stabilize the stray population (i.e. reduce new births and manage health of current population); lower costs (fewer dogs/cats equals fewer medical crises, fewer mouths to feed, and fewer puppies who need shelter at project sites); reduce complaints by residents and alleviate public health concerns.
If we curb the population, we can begin to tackle some of the deeper cultural issues in Albania that create such a dangerous place for animals. Educational programmes focused on responsible pet ownership; encouraging a more progressive, respectful animal culture; policy/legal changes toward animal cruelty and abuse (example of recent abuse and similar case in Fier on 13 July); and increasing opportunities for veterinarians are greatly needed. But, CNVR must happen first .
To CNVR one dog costs 6805 ALL (about 55 euros). And while the state receives funding for this, it's become clear they are not using the funds as promised. Additionally, it's difficult to find international organizations who will grant money to Albania. We are incredibly grateful to those partners who do and hope to find even more funders for this critical work. In the meantime, private donors can make a huge difference!
For more information about castration, visit The Humane Society.
Maintenance of Project Sites
CNVR programmes naturally result in the need for a shelter. If the animal is too young, needs time to heal or exhibits behaviors that indicate he/she once had a home but was abandoned and therefore would not survive on the streets, JTUM keeps the animal at one of our project sites until adoption. (Currently, we only have sites for dogs so try to find foster homes for cats who cannot be released.) Unfortunately, adoptions are extremely rare in Albania and our sites remain completely full. As more people learn about our work, the number of dogs dumped at our sites is increasing.
There are smaller shelters in Vranisht/Vlorë but our largest shelter is in Durrës, which previously served as a garbage site that JTUM negotiated with the city to take over. Unfortunately, this site is extremely problematic and requires constant renovations, which the city should pay for but does not. Additionally, they continue to dump garbage there despite protests.
In addition to maintaining the physical sites, we also feed and care for the dogs under our supervision. If you'd like to sponsor, foster or adopt one of our dogs, please be in touch!
Creation of a Veterinary Clinic with Sanctuary in Fier
Given the problems with the Durrës site and the city's refusal to uphold their end of the agreement, it's more efficient to create our own sanctuaries. We plan to build our first veterinary clinic and shelter near Fier to be closer to one of our veterinarians. The goal is to finish the most important part of the clinic by the end of 2022 and expand as funds allow. Please contact us if you have land or resources to donate for clinics. 
Feeding Stray Animals
A bag of 20kg dry dog food costs about 2800 ALL (23 euros). Volunteers regularly feed stray dogs and cats and we need both human and financial assistance to increase this work.
Emergencies
Large population. Limited funds. Few organizations with no support from the government. The result? A heartbreaking number of emergency cases. Larger, better-funded organizations regularly send people to our organization for help. The truth is that without funds for these cases, we are forced to turn them away. This is perhaps the hardest part of our work and why we insist on CNVR work in order to decrease the number of emergencies.
Helping Albanian animal lovers
When funds are available and a responsible Albanian pet owner needs assistance with a veterinary bill, we assist. We also employ Albanians to care for our sites and believe the economic empowerment of Albanian people is a key part of the solution to a happier, healthier Albania for all.
Please consider donating today!