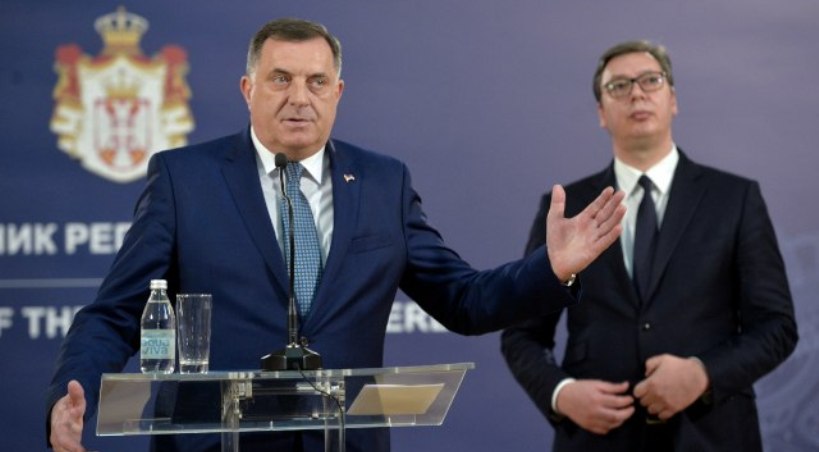 On Monday, Christian Schmidt replaced Valentin Inzko as the UN-mandated peace envoy to Bosnia and Herzegovina. The German politician's arrival was met with Bosnian Serb leader Milorak Dodik's hostile call for the abolishing of the peace envoy post. 
The Office of the High Representative (OHR) was established at the Dayton peace agreement in 1995, which ended the Bosnian war of 1992-95 where the Bosnian Serbs troops' genocide against Bosniaks made more than 100,000 victims.
"You were not chosen as the High Representative. The Serb Republic… will not respect anything you do," Bosnian Serb leader Milorad Dodik told Schmidt on Monday.
Dodik, a Srebrenica genocide denier who is the Bosnian Serb representative in the tripartite presidency of Bosnia and Herzegovina, has repeatedly asked for the abolition of the peace envoy post. He also threatened to dissolve the country composed of the Republika Sprska that he leads, and the Federation of Bosnia and Herzegovina with a population of Bosniaks and Croats.
Shortly before leaving his post, Valentin Inzko, the former peace envoy, made genocide denial a crime punishable by jail. It followed the publication of a report commissioned by Republika Srpska that denied the Srebrenica Genocide, in which Bosnian Serb troops killed 8,000 Bosniak men and boys within a few days.
The genocide was recognized by multiple rulings of the International Court of Justice (ICJ) and the International Criminal Tribunal for the former Yugoslavia (ICTY).
Dodik and other Bosnian Serb leaders blasted the criminalization of genocide denial, claiming it violated their right to free speech, and threatened again with the dissolution of Bosnia and Herzegovina. 
Serbia's President Aleksandar Vučić, who also refuses to recognize the Srebrenica Genocide, called for talks between Serbs and Bosniaks over the criminalization of genocide denial.
Read more: