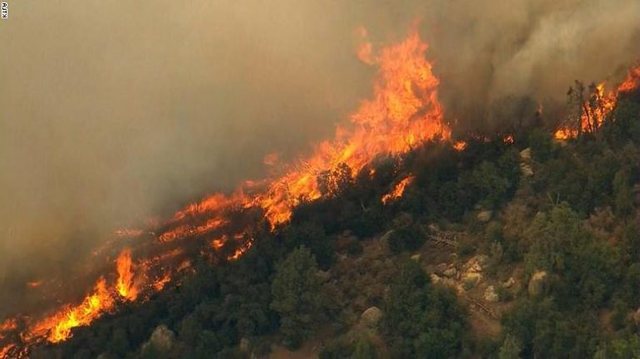 Albania is currently in the grips of a long, hot summer. While the country typically enjoys warm and lengthy summers, this year has been somewhat different. Low rainfall, temperatures reaching 43 and remaining above 33 during the day since early June, and an absence of characteristic humidity have created a tinderbox situation.
Add to the above the practice of using fire to clear fields, burn vegetation waste, as well as several incidents of arson, and the country is now facing a disastrous August.
Albanian President Ilir Meta said that there are 70 fires throughout the country so far. Most have been concentrated in the south of the country, in places such as Vlore, Ksamil, Berat, and the Karaburun Peninsula, but there have been reports of fires in the center and north as well. What makes this year different from the previous is the ferocity with which they are burning and the total inability of authorities to bring them under control.
Yesterday, in a small village near Gjirokastër, raging fires burned out of control and claimed the life of an elderly man. His wife also sustained burns as she tried to escape their home.
Three villages in the area have now been evacuated on orders of Minister of Defense Niko Peleshi. They included the village of Asim Zeneli, Arshi Lengo, and Krin. He called on residents not to resist the evacuation order.
The Minister assured people that the fires were under control, and Prime Minister Rama shared a video of a helicopter depositing water on the flames. This morning, he announced that the fires had been extinguished, but this is yet to be independently verified.
One of the most concerning fires is that on the protected Karaburun Peninsula. It was first observed on 26 July but continues to this day, edging further towards the Llogora National Park, the Ali Pasha military base, and homes and businesses. Livadh Beach had to be deserted due to smoke from the fires. The army is also on-site, desperately trying to prevent spreading to the military base and the protected Llogara Park.
Another big fire was reported in Ksamil on 31 July, but it was extinguished by 2 August.
Fires persist in Vau Dejes, Shllak, Fushe Arrez, Selishte, Diber, Skrapar, Elbasan, etc.
Wildfires in Albania
Wildfires are not a new phenomenon in Albania. Over the years, every summer has seen reports of fires throughout the country.
Between 2004 and 2013, an average of just under 5,000 hectares of land was burnt due to wildfires every year. This included protected areas, forests, other vegetation, and even wetlands.
A study published in 2013 recommended that the government improve the network of forest roads to create fire-prevention boundaries. They also said that firefighters should be provided with the necessary equipment to fight blazes in difficult-to-reach areas. More training should be provided to firefighters, and the capacity of volunteer fighters should also be improved.
It also suggested that changes to existing laws be enacted and that coordination and collaboration between institutions and organizations should be bettered.
But the situation is expected to get worse. The Balkans are yet to experience the brunt of climate change, including higher temperatures, longer summers, and less rain. This summer has already been one of the hottest in recent years, with temperatures over 33 degrees since early June and reaching 43 degrees on several occasions.
This will increase the risk of forest and wildfires and prolong their burning when the inevitable happens. Some studies have suggested that Albania and other countries in the region can expect the fire season to be extended by an additional 2-6 weeks over the next 40 years. 
Albania's fire season typically starts in mid-July and lasts for 12 weeks. In 2021 there were 88 fire alerts reported between 10 August 2020 and the current day on the Global Forest Watch platform. Between 6 August 2018 and today, a total of 1174 fire alerts have been registered.
No data is currently available on how much land has been destroyed by fire during the last year.
Albania and its helicopters
Earlier this week, Minister of Defense Niko Peleshi said that Albania only has one helicopter carrying 2,000 liters of water. This came as a surprise.
In 2018, the former Minister of Defense Olta Xhacka organized a public demonstration of what she billed as a "12-fold increase in firefighting capacity".
In an impressive demonstration, the Ministry showed off Air Force Cougar helicopters equipped with special containers for extinguishing fires in difficult-to-reach terrain. Each tank could hold up to 2,500 liters of water, she said.
The Minister didn't specify how many helicopters were in the fleet, but she used plurals when speaking.
"Beyond infrastructure and military capabilities, our true strength and strength remains unquestionably our boys and girls in uniform, who go down to the ground from the very first moment when help is sought to secure the lives and property of citizens." – said the minister.
There is not much publicly available information in terms of how many helicopters Albania has at its disposal. Some sources put the number at 12 while others in the 3-6 region. But in 2019, the US gave Albania three Black Hawk helicopters as a part of a US support package for the country.
But the use of helicopters equipped with water tanks has been referred to as "increasingly ineffective" by experts who fight fires in California, US. Factors such as high or strong winds and smoke that reduce visibility make it difficult for pilots to deposit the water in places where it is likely to have any impact.
A study and report published by the Leonardo DiCaprio Foundation said that dropping water and retardant is effective only in the early hours of the morning. Furthermore, these drops are only effective during the early stages of a fire, not after days of burning.
In 2011, a study found very little evidence it works and no correlation between using such methods and a positive outcome for the fire.
In fact, this method of fighting fires has been referred to as publicity stunts in the US because they look good for the cameras and demonstrate that the government is doing something. Meanwhile, in terms of efficiency, they are debatable,
Nevertheless, Peleshi said he had spoken to his contemporaries in Croatia and Kosovo about assistance. He also said that three helicopters were on the way from Italy to support Albania's "one" helicopter.
But despite calling for help from other countries, Prime Minister Edi Rama was transported to oversee the situation by an army helicopter. This was criticized by the Opposition, who said it was wrong to remove such an aircraft from service to transport the Prime Minister.
So how do the experts fight fires?
Wildfires occur in Albania every year, yet the authorities do not take any precautions to prevent them. Experts state that a top priority should be managing the amount of vegetation that a fire can consume. This can be done mechanically or through the use of grazing animals. Another solution is the controlled use of fire, where some vegetation is destroyed under carefully managed conditions.
The use of 'control lines' in high-risk areas should also be considered. These can be roads, rivers, constructed fire breaks, or trenches. These are essentially designated lines that are free from anything combustible.
Another key method is educating the population. This includes explaining the dangers and risks of throwing cigarettes, not starting fires to clear vegetation or dispose of waste, learning how to manage fires, and removing combustible items such as firewood and gas tanks from around the vicinity of populated areas.
But once the fire has started, authorities should make use of an early warning system. This should include analysis of temperatures, humidity, historical data, and wind conditions. This can help authorities predict where fires may break out, allowing them to take adequate proportions and monitor the area.
Places designated as high-risk should station fire crews nearby and individuals there to look for the first signs of smoke and fire. Once it's detected, firefighting crews can spring into action immediately, instead of waiting for hours or even days, as has happened this year.
In terms of suppressing the fire, teams in California and other areas prone to wildfires send out rapid response teams when wildfires are first noted. This can include trucks, on-the-ground teams, or helicopters in remote areas. Once the size of the fire is ascertained, authorities can figure out how to proceed. 
Typically, the attack will include creating fire boundaries around a certain area, using water and retardant, and land-based teams. If the fire cannot be suppressed within an hour or two, attempts are stepped up.
The last stage includes an intensive attack. Bulldozers are brought in to clear vegetation and create boundaries, tankers, crews, and air support are used to fight the fire directly, and teams of people are used to beat or dampen the flanks of the fire to narrow the front of it. Digging trenches ahead of where the fire is going are also used widely abroad.
The Albanian government is aware of the risks that are presented by wildfires. There is also ample data on historic fires, problematic areas, and trends that have occurred in recent years. Preventative measures are considered by far the best approach, yet despite warnings since 2013,  little has been done in terms of implementation. Meanwhile, confusion and a lack of transparency around the use of helicopters and firefighting resources remain a concern. Let's hope there are no more deaths this year or any other year, and that the government learns from their mistakes and shortcomings.