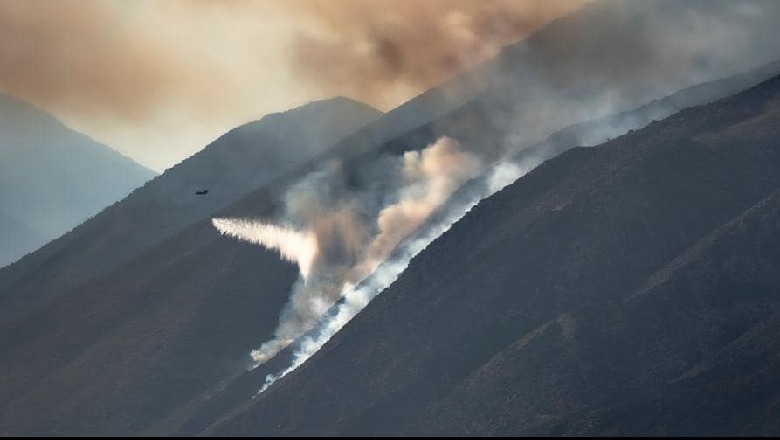 The situation with wildfires in Albania continues to be problematic, as many more blazes have been reported in the last 24 hours.
In Kukes, a fire in Maja e Rruna continues to burn while 10 firefighters and six forestry workers are working to extinguish it. Other fires are still active in Betoshe, Laku i Thive, and Dragove. The situation is still not under control as the fires are in areas with inaccessible terrain. Air operations are taking place from the air, but this is being hampered by high temperatures, smoke, and strong winds.
Meanwhile, in Tropoje, two fires have been identities in Betoshe and Lekbibaj. Some 20 firefighters are on the ground there to try to bring the flames under control.
Another fire has started in Dukat and the authorities believe that it was intentional. The Army is on site where they are working to put out the flames.
Today, Minister of Defense Niko Peleshi announced that after two weeks, the Karaburun Peninsula is finally free of wildfires, meaning Llogara National Park is out of danger for the moment. Nevertheless, he warned that wildfire season is not over yet.
The police have arrested two individuals for arson since yesterday. In Cerrik, an individual was apprehended after he set fire to fruit trees and vineyards on his property. In Skrapar, one man was arrested for starting the blaze on Tomorr Mountain, while another has been declared wanted.
The Albanian State Police have arrested 15 people between July 25 and August 10 for arson, and pressed charges against 16 more.
Yesterday, US Ambassador Yuri Kim expressed her "sadness" at the devastation caused by the fires. She visited Vlora where a team of experts from USAID's Burea for Humanitarian Assistance had arrived to assist with coordination and response efforts.
"They have already started to address the challenges, working together with our Albanian partners.  These united efforts and the cooperation between our countries is what Allies do for one another during times of need.  These are the moments when friends and Allies stand together to meet these difficult challenges," she said.