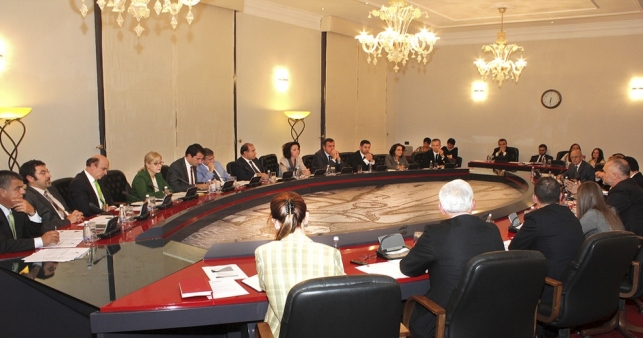 This morning, Albanian Prime Minister Edi Rama unveiled his new cabinet at the General Assembly of the Socialist Party.
Rama's third cabinet has remained largely the same.
Notable changes include the return of former Minister of Culture Mirela Kumbaro at the head of the Ministry of Tourism and Environment. Ulsi Manja, former head of the Commission on Laws, will replace Etilda Gjonaj as Minister of Justice. Delina Ibrahimi, General Director of  Taxation, will become Minister of Finance.
Gramoz Ruçi will be replaced by former Minister of Education Lindita Nikolla as Speaker of Parliament.
The cabinet is comprised of 13 women and five men, including Rama.
Yesterday, President Ilir Meta announced that the new Parliament will convene next Friday, September 10 at 10 a.m.
Four parties will seat in Parliament following the April 25 elections: 74 deputies from the Socialist Party (PS), 59 deputies from the Democratic Party (PD), four from the Socialist Movement for Integration (LSI), and three from the Social Democratic Party (PSD).
A list of Rama's full cabinet is included below:
Lindita Nikolla, Speaker of the Albanian Parliament;
Arben Ahmetaj, Deputy Prime Minister;
Evis Kushi, Minister of Education;
Ulsi Manja, Minister of Justice;
Bledi Çuçi, Minister of Interior;
Delina Ibrahimi, Minister of Finance;
Belinda Balluku, Minister of Infrastructure;
Ogerta Manastirliu, Minister of Health;
Frida Krifca, Minister of Agriculture;
Mirela Kumbaro, Minister of Environment and Tourism;
Olta Xhaçka, Minister of Foreign Affairs;
Niko Peleshi, Minister of Defense;
Elva Margariti, Minister of Culture;
Elisa Spiropali, Minister for Parliament;
Edona Bilalli, Minister of State for Entrepreneurship;
Bora Muzhaqi, Minister of State for Youth and Children;
Milva Economi, Minister of State for Standards.