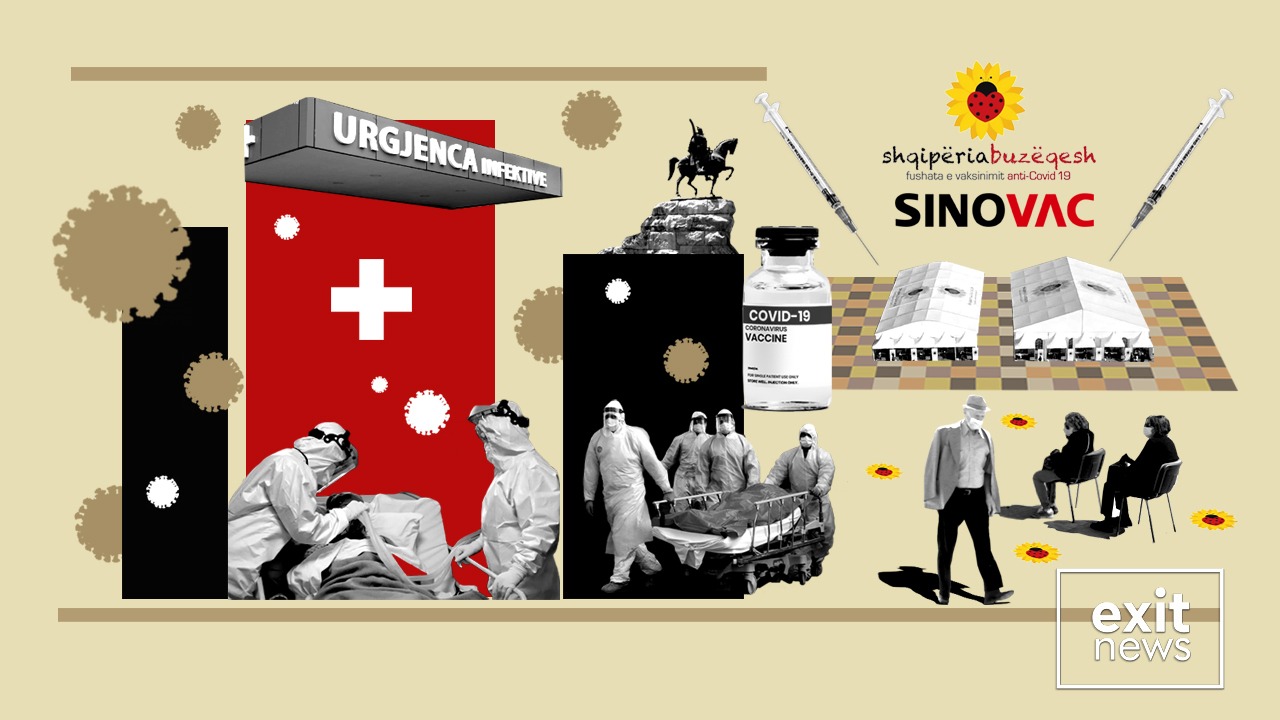 Only 22% of the population of Albania have had two doses of a COVID-19 vaccine, according to data published by the New York Times.
This ranks it as one of the lowest in Europe, putting it in the same league as Tonga, Bolivia, New Caledonia, and Cape Verde.
As of 1 September, 1,458,480 vaccines have been administered. Some 29% of the population have had either one or two doses.
Leading the way for mass vaccination is the UAE, with 87% of the population having had at least one dose. The EU country of Malta has vaccinated 82% of the country with both doses, leading the way globally.
In Europe, the countries with the highest rates of vaccination after Malta are Iceland and Portugal with 84%, Spain 77%, Iceland 77%, Ireland 75%, Belgium 73%, UK 72%, France 72%, Norway 72% and Italy 71%.
The Albanian government has recently mandated COVID-19 vaccines for healthcare workers, teachers, and students (over 18). They will have until 30 September to get at least one dose of a COVID-19 vaccine.
Vaccines are also being offered openly, and citizens and residents can simply appear at a vaccination center with ID (and a residence permit if they are a foreign resident) to receive the jab. Despite this, uptake of the vaccine remains low, with many being hesitant to take it. Much of this resistance appears to stem from disinformation that's spread widely on social media.
A recent report by the Albanian Intelligence Services found that Albania has been targeted by "aggressive disinformation and misinformation campaigns that negatively affected the response and public perception of the real danger of the pandemic."
Many of these campaigns were created by non-Western state actors and non-state actors who exacerbated the crisis and undermined efforts to overcome it. Disinformation was most prevalent on social media networks. Funded disinformation campaigns saw the rapid spread of false information and conspiracy theories, feeding into a public feeling of insecurity.
There has also been a prevalence of antisemitic conspiracy theories including comparing mandatory vaccination to the holocaust, the confusion of mandatory vaccination with forced vaccination, and extensive disinformation on the vaccines themselves.
Albania has now introduced entry requirements for those coming to the country. Anyone over the age of one must present either a vaccination certificate, a PCR test, a serology test, or evidence they have recovered from COVID-19 in the last six months. This requirement comes into force on 6 September.
During the last 24 hours, three people lost their lives to COVID-19 in the country 1054 new infections were reported. There are 100 people hospitalized and 15 in intensive care.
Tirana has the most cases, followed by Shkodra and Vlora. Over 2,500 people have lost their lives since the beginning of the pandemic, although according to INSTAT there was an increase in deaths of over 25% from 2019 to 2020. Even when accounting for naturally increasing death rates, this leaves some 4700 "excess deaths."