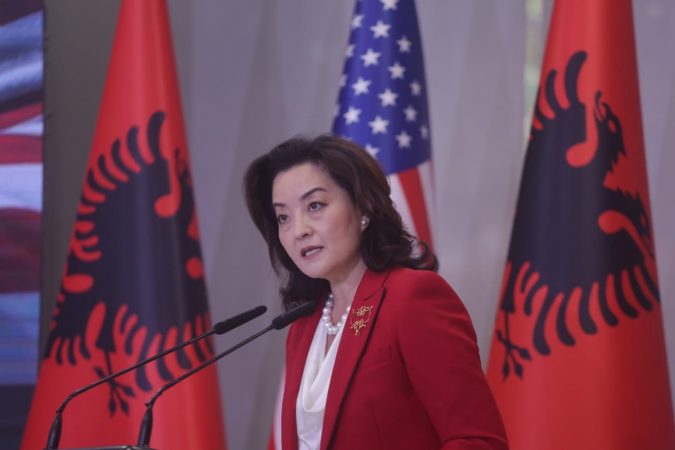 US Ambassador to Albania has commended Albania for its role in relocating refugees from Afghanistan.
Kim tweeted a Statement from the US Department of State giving details of the mission so far.
🇺🇸 mobilized an unprecedented, global effort thru our diplomatic channels to evacuate US citizens, personnel from partner nations & at-risk Afghans. With the help of friends like 🇦🇱, we have relocated >124,000 people to safety, including 6,000 US citizens. https://t.co/zaHlUSODyV

— Ambassador Yuri Kim (@USAmbAlbania) September 6, 2021
The country was plunged into violence and uncertainty after the US government ordered the sudden withdrawal of the military. This led to the rise of the Taliban who swept to power in a matter of weeks, finally seizing Kabul and the international airport. In turn, this required a mass evacuation operation to transport those who had worked for or with the US, foreign agencies or missions, or with the government.
The US says they have relocated 124,000 people including 6,000 citizens. They added they "mobilized an unprecedented global effort through our diplomatic channels to evacuate US citizens, personnel from partner nations, and at-risk Afghans from Kabul."
They thanked the more than "two dozen" countries including Albania, Costa Rica, the UK, North Macedonia, and India. Strangely, Kosovo was left off the list, despite them pledging to receive some 2,000 refugees.
In the statement, Secretary Antony J. Blinken said:
"I want to thank our allies and partners.  This operation was a global endeavor in every way.  Many countries stepped up with robust contributions to the airlift, including working by our side at the airport.  Some are now serving as transit countries, allowing evacuees to be registered and processed on the way to their final destinations.  Others have agreed to resettle Afghan refugees permanently, and we hope more will do so in the days and weeks ahead.  We are truly grateful for their support."
There are currently almost 800 refugees in Albania. Upon arrival, they were processed in dormitories at Student City before being transferred to Durrës and Shengjin. The last arrivals were five days ago, and it's not known if more are expected.
The Coalition For Women in Journalism (CFWIJ) has called on the Albanian government and Prime Minister Edi Rama to consider offering amnesty to some 100 Afghan women at high risk of harm if they remain in Afghanistan.
Founding Director, award-winning international journalist, media activist, and professor of journalism Kiran Nazish made the request last week, calling for them to consider the "urgent humanitarian need" faced by those remaining in the country.
The 100 women include journalists, activists, artists, academics, and former parliamentarians at risk of violence or death from the Taliban.
"We call upon the Albanian government to consider the urgent humanitarian need for at-risk Afghans. We request Prime Minister Edi Rama to consider offering amnesty to at least 100 Afghan women who have played a prominent role in a progressive Afghan society. These women are now seeking refuge from the escalating danger and violence plaguing their country, and Albania's generosity and compassion for them will be deeply recognized," Nazish told Exit.