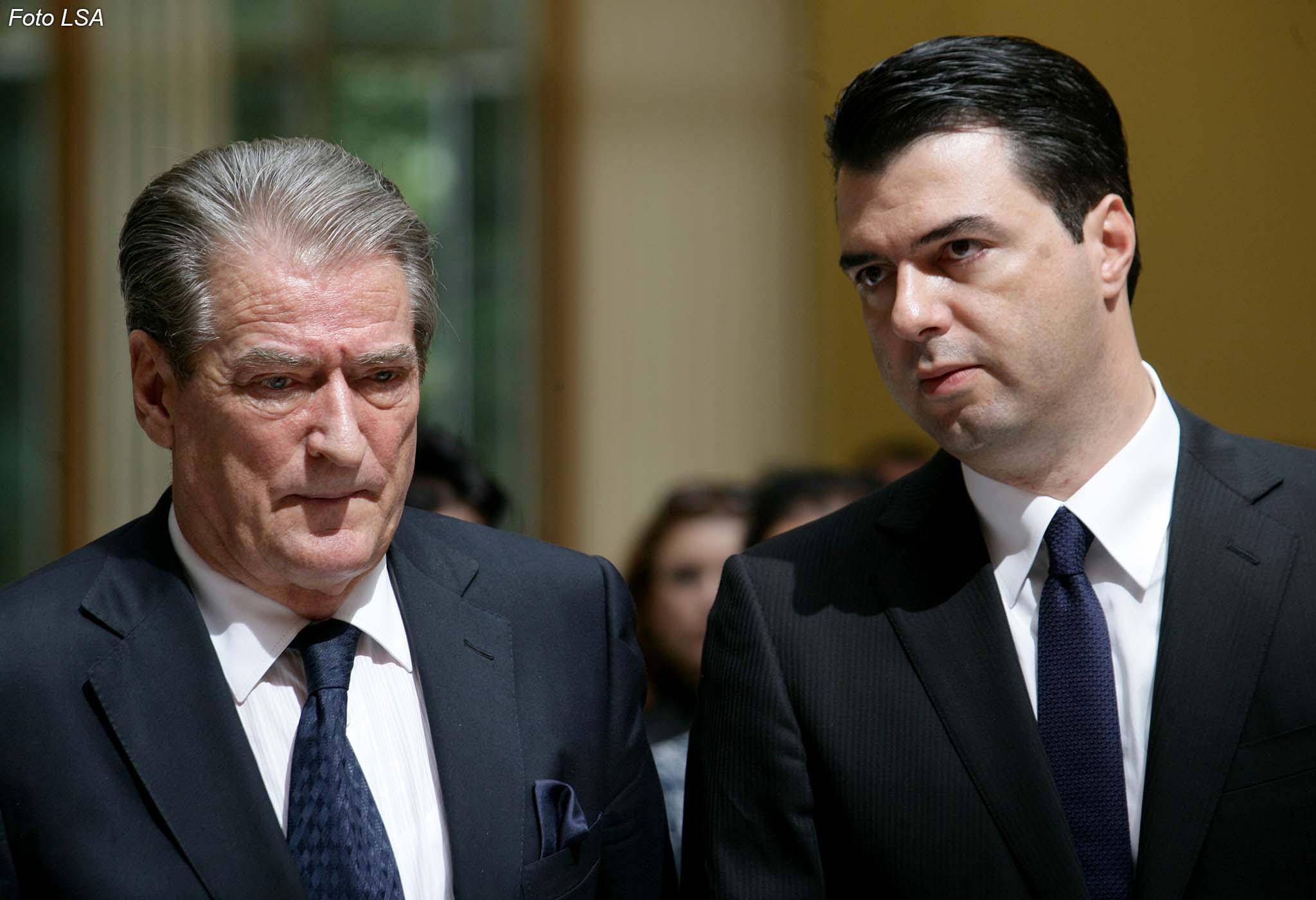 On Thursday, less than 24 hours from the new parliamentary session convened in Albania, opposition leader Lulzim Basha announced that he had decided to ban his former chief and mentor, Sali Berisha, from joining the parliamentary group of the Democratic Party.
Basha said this was the most difficult decision he had had to make, and he did so at the request of the United States.
In May 2021, Berisha and his family were banned from entering the US over allegations of corruption. Basha's statements suggest that Berisha would not be welcomed back to the group until he resolves his legal issues with the US Department of State. 
Sali Berisha: From PD Co-Founder to His Expulsion
Sali Berisha was one of the founders of the Democratic Party in 1990, established as the communist regime was crumbling. Berisha later became the head of the PD, and over the decades has served as both president and prime minister of Albania.
Following two terms as prime minister, he resigned as opposition leader when he lost to Edi Rama's Socialist Party in 2013.
His protégé, Lulzim Basha, was elected to replace him as party leader, while Berisha remained in parliament as a simple deputy. 
Since then, the PD has lost two general elections and one local election, as well as boycotted the last local elections in 2019. Basha was re-elected party leader after the April 25 general elections this year, which resulted in a historical third term for Edi Rama's Socialist Party. The opposition alleges that the last three elections, at the least, were rigged by the PS in collusion with criminal gangs.
Starting in 2018, the US State Department banned a number of Albanian officials and their families from entering the country over allegations of "significant corruption." Former Prosecutor Adriatik Llalla and MP Tom Doshi were banned in 2018, former mayor of Durrës Vangjush Dako in 2019, and finally Sali Berisha in 2021.
While Llalla and Dako hold no public office, the US exerted pressure on Tom Doshi to relinquish his newly won parliament seat after the April 2021 elections. Doshi complied.
The US did the same for Berisha, pressuring Basha to at least exclude him from the PD parliamentary group, after Berisha refused to do so on his own. Basha finally gave in to the US request only a few hours before the new parliament convened, and announced his decision that Berisha "not to be part of the PD parliamentary group."
What Happens Next
It remains unclear how Basha can impose such a decision. No PD statute or document foresees the banning of an MP from the party's parliamentary group by its leaders. Berisha has the right to opt to stay out of the parliamentary group, but it's not clear whether he will do so. He has, however, made it clear that he will be in parliament.
Berisha accused Basha of ruining the PD's "sovereignty" by giving in to the US's request, and vowed to start political action to restore the credentials of Albania's main opposition party. It remains unclear whether Berisha will try to take over the PD, push for leadership change, or launch a new opposition party.
What is clear is that he has considerable support within the party. A number of PD MPs disagreed with Basha's decision in a meeting last night. Overall, though, the party leadership has refrained from taking sides on the matter, at least in public. 
A Euronews TV poll on Thursday showed that 71 percent of PD supporters opposed Basha's decision to keep Berisha from joining the PD's parliamentary group.
The opposition's historic leader, Berisha, accused George Soros and Edi Rama of lobbying to have him banned from entering the US, as well as Lulzim Basha of colluding with Rama against him.
On Friday, the US Embassy in Tirana supported Basha's decision and stressed that they will work "more closely than ever" with the Democratic Party.