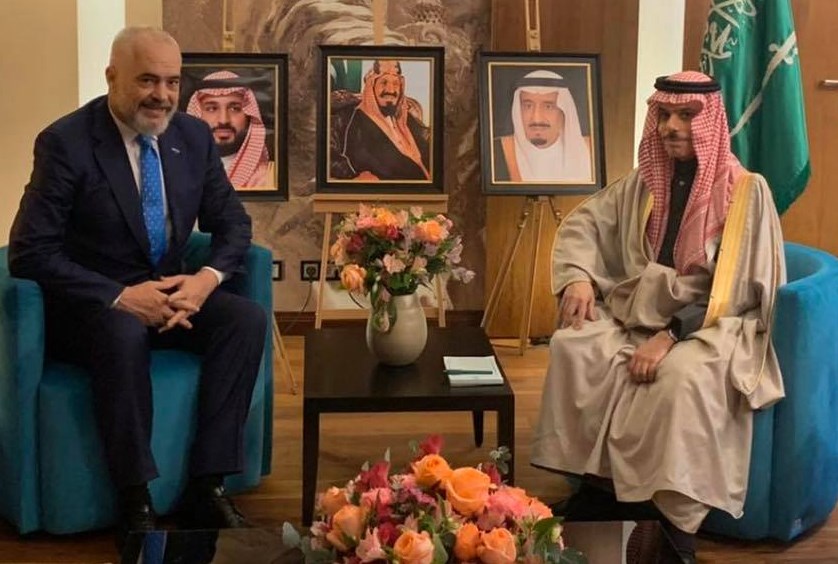 On Saturday, Albanian Prime Minister Edi Rama met with the Saudi Arabian Minister of Foreign Affairs, Prince Faisal bin Farhan Al-Saud. The two men discussed a range of cooperation and collaborative opportunities between the two countries.
"We have discussed economic, political, environmental cooperation, and there is a lot we can do here," said Prince Faisal bin Farhan Al-Saud.
In June of this year, the Albanian government received about 30 million euros in loans from the Development Fund of Saudi Arabia to improve and construct the Cold Water Tunnel, Vlora – Marina, Orikum, with a length of 10 kilometers.
Meanwhile, a month ago, Saudi Arabia donated medical equipment to Albania, including 23 ventilators, to help fight the COVID-19 pandemic.
Albania continues to develop a relationship with the state while not addressing the raft of human rights abuses from within the country.
Saudi Arabia is one of the few countries that regularly enforce capital punishment, including execution by beheading. Offenses resulting in death include murder, rape, drug use, adultery, witchcraft, and sorcery. Asides from beheading with a sword, other methods of execution include stoning, firing squad, and crucifixion.
Security forces regularly use torture to extract confessions. The UN reported in 2018 that the country uses anti-terrorism laws to justify torture, including against peaceful protestors and those who criticize the Royal Family. There have been credible reports of women's rights activists being assaulted, raped, tortured, and killed in Saudi Arabian prisons.
Forcible disappearances are also common, including journalists, members of the Royal Family, critics, intellectuals, activists, and members of civil society. Many are executed, but the whereabouts of hundreds are still unknown.
The country is also a notable destination for men and women trafficked for slave labor and commercial sexual exploitation. This includes those that travel there voluntarily and then find themselves enslaved and unable to escape. 
Saudi women face regular discrimination in almost every aspect of their day-to-day lives. They are treated the same as legal minors under Saudi Law, which requires a male guardian. In court, the testimony of a woman is worth half of that of a man. They are regularly segregated from men, refused work, required to cover completely, and in some places are required to use different entrances to buildings, including their homes, from men.
Women and activists that call for change are routinely imprisoned and persecuted. Women abused by their husbands, including rape, torture, and imprisonment, can be arrested if they complain. They are not allowed to file a police report without the permission of their male guardian, who is often the abuser.
There has been some progress in recent years as women are now allowed to drive, join the army, and drive aircraft. Male permission is still required for them to leave the house.
Furthermore, the right of religious freedom is not allowed in the country, and practicing any other religion asides from Islam is illegal. The Quran is the official constitution. There is active discrimination against Shia Muslims, who follow a different sect from the Sunni Wahabist majority. This includes exclusion from almost all aspects of society, assault, imprisonment, and executions.
In terms of press freedom, the country doesn't permit any independent media. Journalists are under close surveillance even when they work outside of the country. A large number of journalists are arbitrarily detained, and the figure has increased since 2017. They are often charged under criminal code provisions, including blasphemy, inciting chaos, or damaging the state's reputation. Censorship and self-censorship are rife, even on social media. 
The state also uses sophisticated spyware to monitor exiled journalists and foreign nationals.
It ranks 170th in the Reporters Without Borders World Press Freedom Index and continues to decline yearly.
Earlier this year, RSF filed a criminal complaint against the Crown Prince for his alleged role in the assassination of journalist Jamal Khashoggi. They also cited the illegal detention of at least 34 journalists in the country.
One has to question the sincerity of pledges of improving women's equality and the fundamental freedoms of citizens when Rama is happy to sit at the table with one of the most severe and repressive regimes in the world. As the door of the EU appears to have slammed shut, at least for now, the allegiances of Albani become even more concerning.