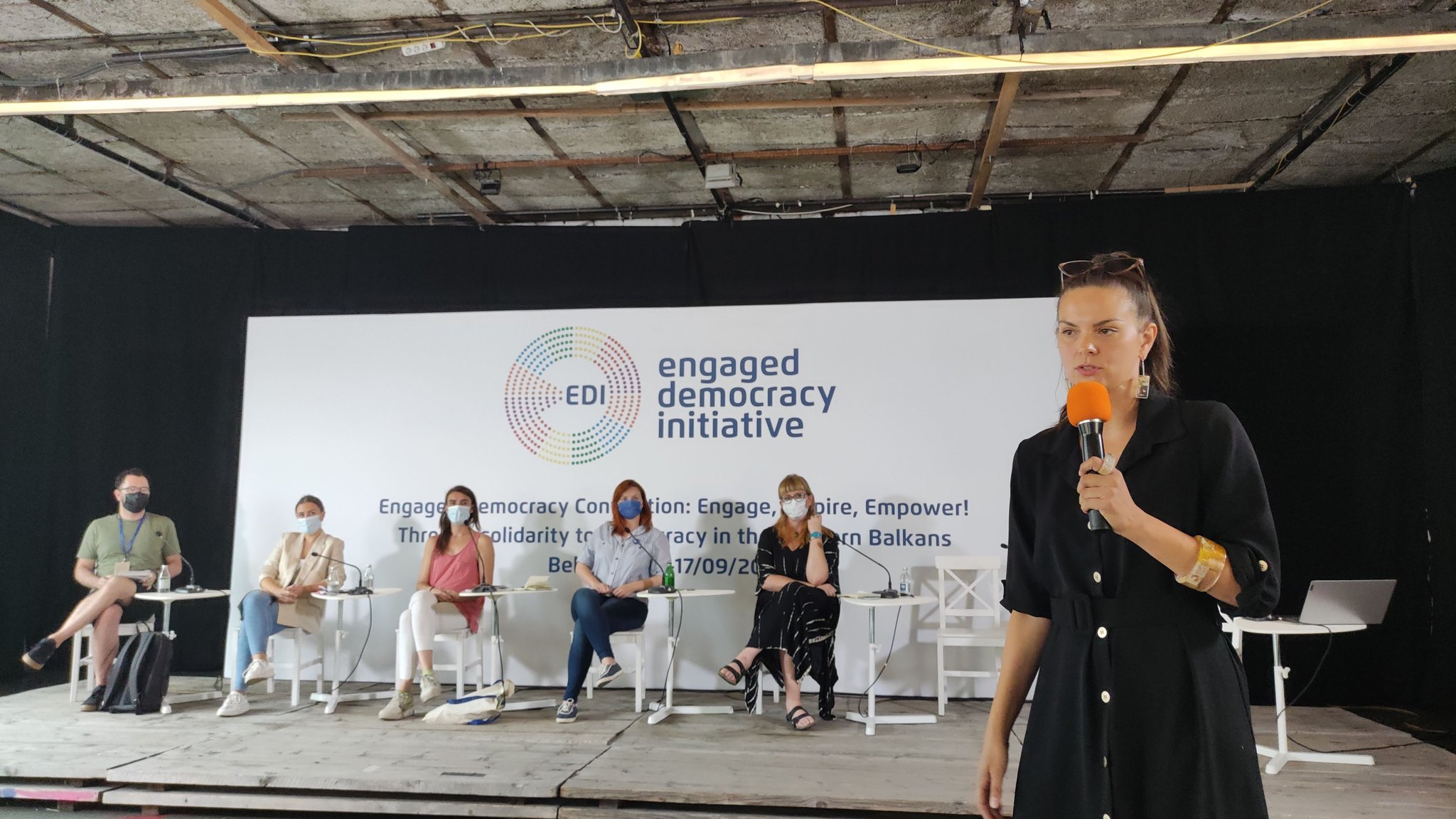 Last week, Exit News took place in the first Engaged Democracy Initiative, ogranised by the European Fund for the Balkans and supported by Democratic Engagement Southeast Europe and the Friedrich Ebert Foundation.
The event took place in Belgrade, Serbia between 16-18 September. It brought together grassroots activists, members of civil society, academics, journalists, and other stakeholders.
2️⃣Day 2 of our #EDI Convention

The thematic group sessions are in full swing!
Discussing:
🔸Reclaiming public goods
🔸Decent work conditions
🔸Ending corruption, providing justice&human rights
🔸Environment
🔸Free Independent media#EngageInspireEmpower#EDICitizensWB#EDI2021 pic.twitter.com/NVaQYVLhZh

— EFB (@Balkan_Fund) September 17, 2021
It was a response to the observation that "local initiatives remain spontaneous, often focused on single issues, lacking strong national and even more horizontal regional ties and cooperation, as well as tools to reach the broader vision of a better and just society."
Organizers spoke of the need to "empower citizens and to strengthen those voices coming from the local communities that are able to address and fight for common goals and public interests and engage for more participatory democracy and accountable institutions. We also need tighter genuine cooperation throughout the region, shared knowledge and common tools, and valuable know-how exchange."
🔶 Free and independent media for free public sphere#EngageInspireEmpower#EDICitizensWB#EDI2021 pic.twitter.com/saJYRNcPHS

— EFB (@Balkan_Fund) September 17, 2021
Co-Editor of Exit Alice Taylor was invited to moderate the panels and thematic groups on media and media freedom in the Western Balkans. On day one, she discussed the challenges faced by the media in Albania, and on day two she held a three-hour session with journalists and activists from Bosnia and Herzegovina, North Macedonia, Kosovo, Serbia, and Albania. During the session, they discussed common issues and challenges, how to overcome them, and how cross-border collaboration with other media and civil society actors can make their work more impactful.
Participants answered questions such as "what role does citizen-led and activism journalism play in your country?" and "how can journalists and activists work together to address the key challenges facing the Western Balkan media environment?"
Also announced at the event was the creation of a special platform that will facilitate connections, networking and cross-border information sharing between stakeholders. The platform will connect people by region, cause, and skill set, encouraging team work to reach mutual goals.
Over the course of two days, participants discovered that they are all fighting against the same issues. Whether they are from Croatia or Kosovo, Serbia or Albania, they all face issues like environmental threats, corruption and state capture, lack of access to information, unemployment and poverty, and populations that have become disillusioned or don't have faith in their power to enact change.
Everybody in working mode, now! #EngagedDemocracyInitiative
Convention. Great discussion with editors from @BalkanInsight and others about funding and training for journalists. Thanks a lot @PerparimIsufi and @Arditramadanii pic.twitter.com/JERtnbqRCD

— European Hub for Civic Engagement (@EHCE_) September 17, 2021
In terms of the media, it was noted that portals need to become more sustainable in their funding methods. They also need to take back the narrative and provide consumers with the information that they need and want, not what editors and business owners think they want. This change will include building trust and strong relationships with activists throughout the region. It will also include writing about regional struggles on a local level and contextualizing them in terms of the struggles being faced in that country. When cross-border attention is brought to a local issue, the pressure is increased, participants said.
Taylor noted that "the media has lost its way. We have been too focused on what politicians are saving, playing into their egos. We need to focus on what impacts community and society, and make these the real talking points."