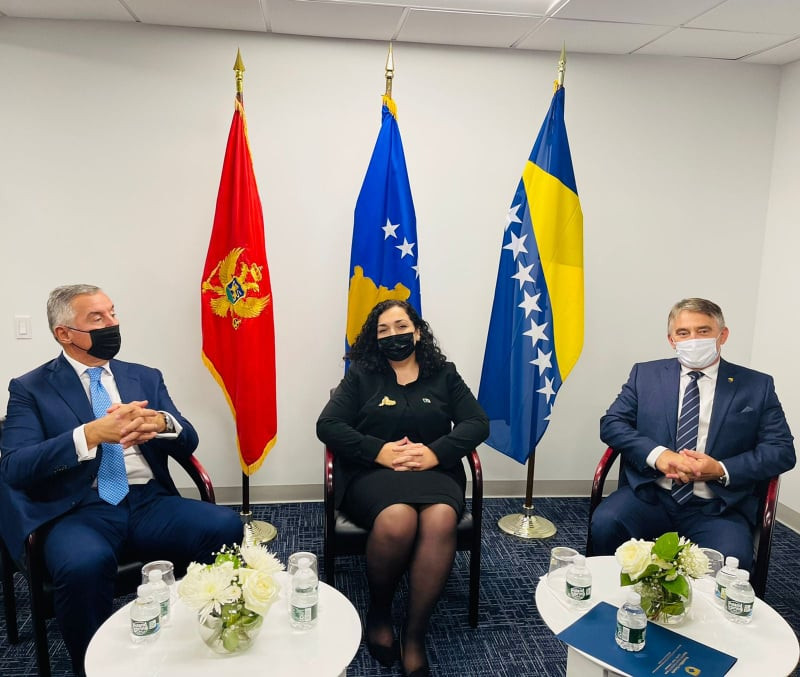 The presidents of Bosnia and Herzegovina, Kosovo and Montenegro have expressed concerns about the situation in the region amidst an ongoing dispute between Kosovo and Serbia.
This week Kosovo imposed a rule requiring Serbian-licenced cars to obtain temporary number plates before entering the country. Serbia has been applying the same rule on Kosovo for more than 10 years.
On Thursday, Presidents Željko Komšić, Vjosa Osmani and Milo Đukanović issued a joint statement after their meeting on the margins of the UN General Assembly in New York.
"The presidents expressed concern about the latest developments in the region and also their common goal of maintaining stability as a precondition for the European perspective of all Western Balkan countries," the statement read.
In Bosnia, the leaders of the Serb-majority Republika Srpska often threaten to leave the federation to join Serbia, thus effectively dissolving the country.
Montenegro's pro-Serbian political forces have been governing the country since last year. One of the ministers was sacked by parliament in June after he denied the Srebrenica genocide.
The Serbian government has issued repeated calls on Serbs living in the region – the so-called "Serbian World" – to unite under one state.
Bosnia, Kosovo and Montenegro have refused to join the "Open Balkan" initiative launched by Albania, Serbia and North Macedonia.