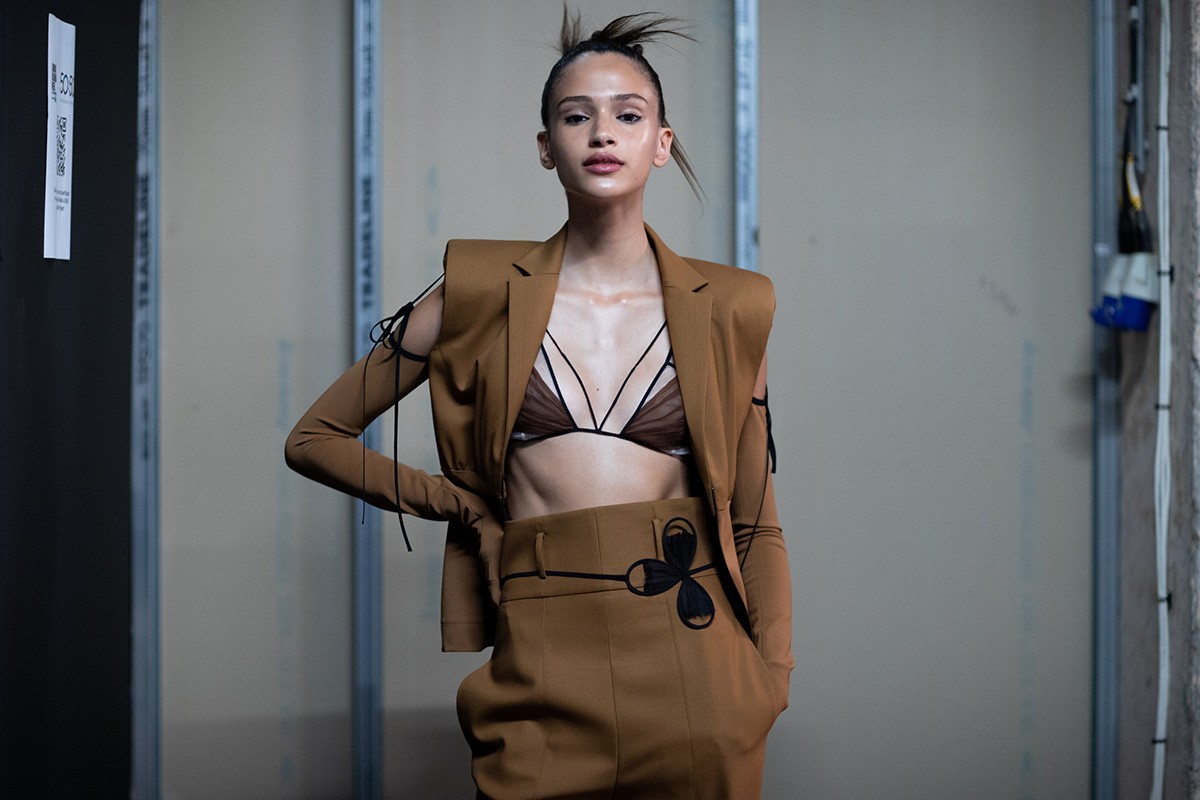 Award-winning Albanian fashion designer Nensi Dojaka has launched her Fall/Winter 2021 collection.
The newly-crowned LVMH Prize winner has teamed up with SSENSE to create a capsule collection. She recently had her first stand-alone fashion show at the prestigious London Fashion Week.
Prior to the show, she explained to the media that it was tough growing her brand during the COVID-19 pandemic.
"At first it was very difficult because I had only just started so it felt disheartening, but also served as a push to move forward and I was determined to get over it. I started really focussing on the brand development, the product, thinking more about end consumers etc, and then slowly, things started to kick off."
In terms of her first show taking place in front of a live audience instead of online due to COVID-19. she spoke of her excitement.
"Firstly, it is my first standalone show but I also think [that] there is no better way to show clothes than through a [physical] show. There are a lot of tiny details in my clothes and I was excited for people to see them live this time. The pressure was high, but it felt very exciting nonetheless."
Her clothes are already available in multiple big-name stores such as Selfridges, SSENSE, and Mytheresa. Her designs have also been worn by Bella Hadid, Emily Ratajkowski, and Kosovo-born Dua Lipa.
The new collection has been described as "monochromatic" and includes sheer tops, tights as trousers, low-rise skorts, and plenty of cut-out features.
As for the LVMH award, the jury selected Dojaka from a shortlist of nine finalists. The 28-year-old who now lives in London will receive an EUR 300,000 grant and a one-year mentoring programme from a dedicated LMVH team that will cover many fields.
LVMH, otherwise know as Moet Hennessy Louis Vuitton, is a French international corporation specializing in luxury goods. They also manage Christian Dior, Givenchy, Marc Jacobs, Celine, Bulgari, Tiffany & Co, and Stella McCartney.
The LVMH Prize is awarded every year for young fashion designers who have a "passion for creativity." Selected for their talent and "outstanding creativity" it hopes to enable the emergence of a new generation of fashion designers.
This year, Djoaka was shortlisted along with eight other individuals. They come from New York, Paris, London, China, Colombia, and South Africa. This is the first time an Albanian has been selected as a finalist in the competition.