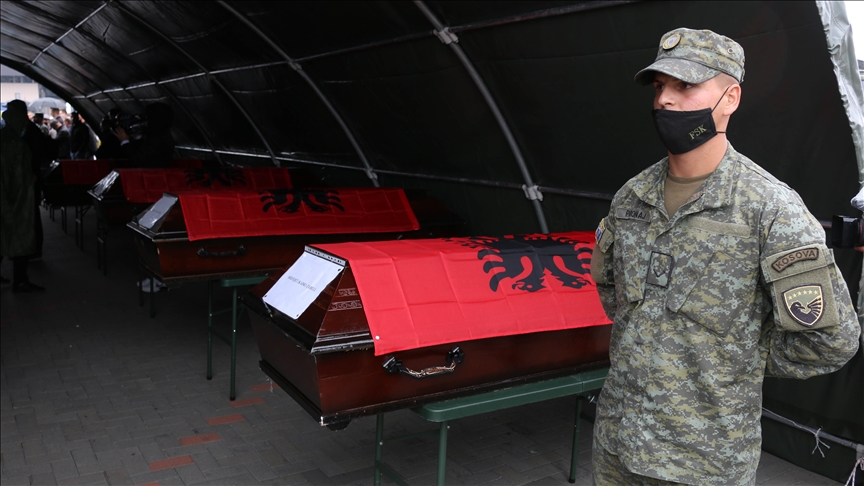 Serbia has returned the human remains of seven Albanians massacred 22 years ago by Serbian troops in Kosovo, whose bodies were transported and buried in a mass grave in Serbia.
In 1999, Serbian troops killed 98 people in the Rezallë village of Kosovo, in one of the many massacres waged against the civilian population by the Serbian regime of Slobidan Milosevic, also known as the Butcher of the Balkans.
The bodies of innocent civilians were found in a mass grave in Raska, Serbia – one of the many mass graves where the Serbian regime buried Albanian civilians it killed during the brutal war waged against its former province in 1998-1999.
The Serbian authorities now led by president Aleksandar Vucic, who was the minister of information of the government that killed them, finally returned the remains of seven Albanian civilians to their families, 22 years after its army and police massacred them.
Prime Minister Albin Kurti attended a memorial ceremony alongside the victims' families on Thursday. He stressed his government's determination to return home the remains of those missing from the war.
"Today, after a 22-year-long wait, the remains of the civilians buried in Kizevak, Serbia were returned to us. This here is the truth that they have tried to bury in mass graves for over two decades. We cannot stop until we return them to their families and bring justice for them. The issue of the missing persons is our top priority in the dialogue with Serbia. The government is taking the necessary steps to face the past and bring justice for victims," Kurti stated.
Mayor of Skenderaj Bekim Jashari called on the international community to put pressure on Serbia to return the hundreds more missing persons and hold it responsible for the genocide it committed in Kosovo.
Serbia killed at least 8,676 Albanian civilians, expelled nearly half of the roughly 2 million population to neighboring countries, and several hundreds of thousands more were internally displaced. Its troops raped over 20,000 Albanian women and destroyed nearly 40 percent of houses in Kosovo.
More than 22 years since the war ended in 1999, over 1,600 Albanians are still missing. A number of the missing people are believed to have been buried by Serbian troops in mass graves in Serbia. The dialogue between the two countries since 2011 has shed little light on the location of these mass graves.
The government of Kosovo is preparing to sue Serbia for genocide in international courts, although the latter's government does not recognize the Srebrenica genocide committed by Serbs in Bosnia and Herzegovina and recognized by the two most important international courts in the world.