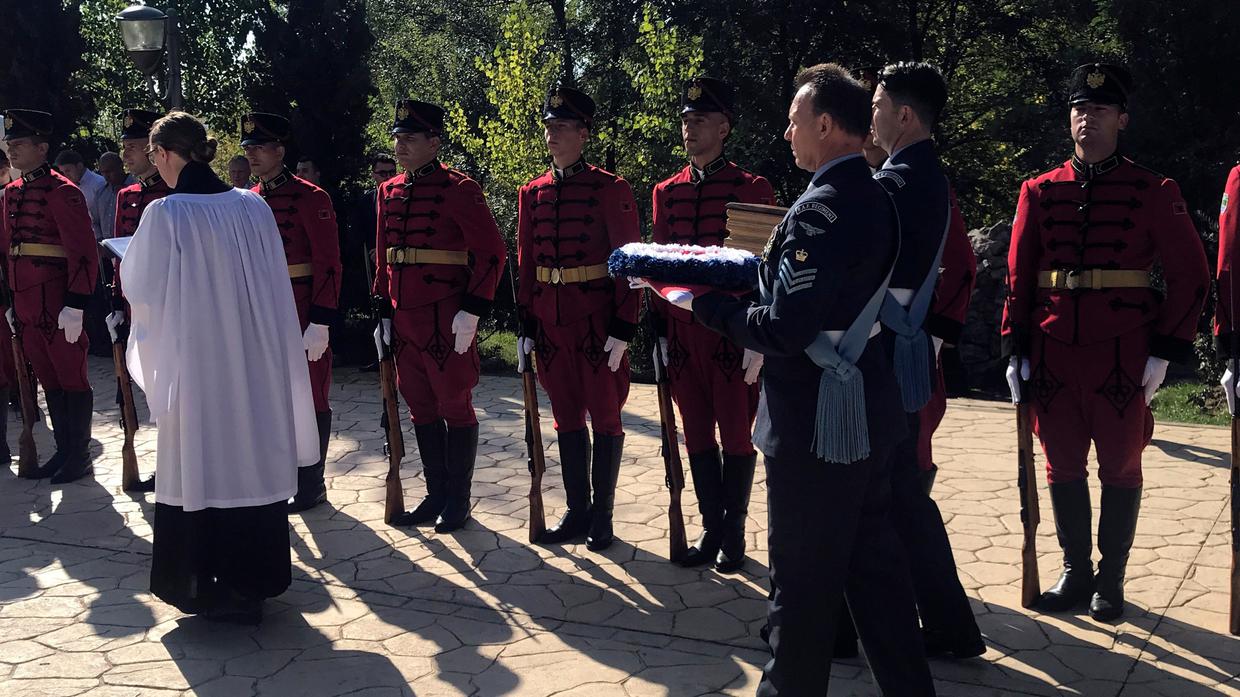 A British serviceman killed in Albanian in 1943 was finally laid to rest in Tirana on Thursday (21 October) on what would have been his 100th birthday.
Sergeant Peter Twiddy RAFVR was buried with military honours by the Queen's Colour Squadron, Royal Air Force, during a service organised by a group known as the MOD War Detectives.
The ceremony took place at the Commonwealth War Graves Commission's Tirana Park Memorial Cemetery and was conducted by Reverend Chrissy Lacey, Chaplain at RAF High Wycombe.
Twiddy took part in a secret operation in October 1943 along with six other crewmen. They were accompanying two individuals who were part of the Special Operations Executive. The purpose of the mission was to drop supplies and the two individuals.
Departing from Libya, they set off for Albania but never returned. Attempts to locate the aircraft were futile for several days until they picked up a signal from a field in Albania. It was then ascertained the plane had crashed in the early hours of 20 October, killing all on board.
Years passed, but eventually, DNA technology allowed the identification of the remains.
The family of Twiddy said in a statement that they can finally close this chapter of their history.
" We are all grateful a positive DNA match was obtained, and the mystery as to what happened all those years ago to our brave family member has been finally solved."
The Reverend Lacey added in a statement;
"For 78 years, Sgt Twiddy's resting place has been unknown. Now, on his special day (the anniversary of both his birth and death), we come together to say that he is known; at his final resting place, we recognise the ultimate sacrifice he made. We stand in remembrance in the peace which he and the crew gave their lives for and pray that will have peace as they rest."
" We are all grateful a positive DNA match was obtained, and the mystery as to what happened all those years ago to our brave family member has been finally solved."