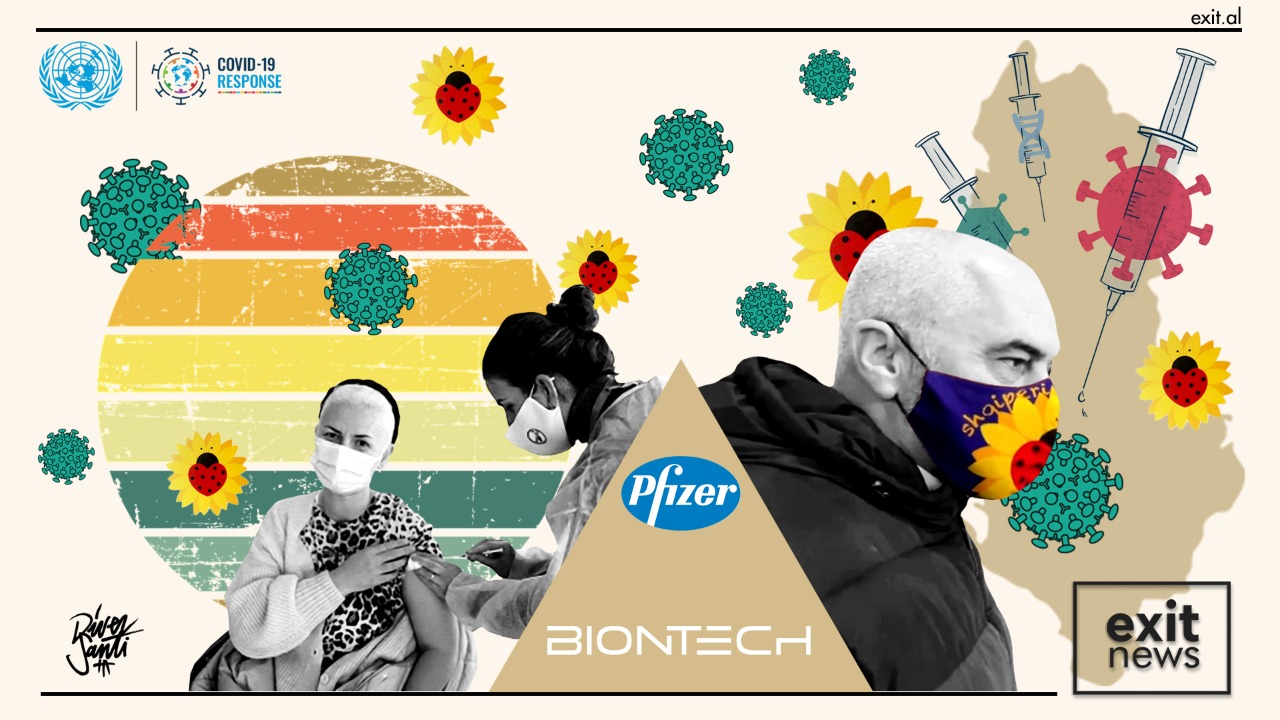 The vaccination rate in Albania dropped 40% in October compared to September and August, as the country struggles to reach even 50% coverage with anti-COVID-19 vaccines.
During the summer, vaccination rates peaked at 7,500 a day in July and 8,800 a day in August and September. During this time, the government-mandated vaccinations for students over 18, healthcare workers, teachers, police, and state administration. But instead of encouraging vaccinations, it seems to have had the opposite effect.
Currently, 47% of the population over 18 have had one dose of a vaccine, while only 41.3% have received both doses. The over 60s are the most vaccinated in terms of demographics, mainly because they are a priority group for vaccination. 
Takeup among youngsters remains concerningly low despite an increase in students getting vaccinated. Government mandates did little to encourage people and resulted in protests and outrage on social media.
Many of these campaigns were created by non-Western state actors and non-state actors who exacerbated the crisis and undermined efforts to overcome it. These included claims that the virus is a biological weapon, that the EU failed to manage the crisis, and similar.
Disinformation was most prevalent on social media networks. Funded disinformation campaigns saw the rapid spread of false information and conspiracy theories, feeding a public feeling of insecurity.
Albania Plagued by Disinformation Campaigns During COVID-19 Pandemic
Albania has been vaccinating citizens and residents since January 2021. Priority groups such as the elderly, teachers, and healthcare workers were the first to be vaccinated, along wiht journalists and those working in factories and tourism. Since the summer, vaccination has been open to all via their local clinic or walk-in vaccination centres. Available vaccines include Pfizer, AstraZeneca, and Sinovac. Small doses of Sputnik were given initially but are no longer available.
The reason for sluggish vaccination rates has been blamed on disinformation and conspiracy theories circulated on TV, online media, and social media.
Head of the National Vaccination Programme Erida Nelaj said people are reluctant to listen to the doctor or scientific advice.
"The circulation of myths is very harmful in this situation. Sometimes people hear what they want to hear. Or they hear something wrong, but you like it and focus on it and use it as an element to not get vaccinated when you have to listen to science, listen to technicians, talk to your family doctor and listen to your advice. the doctor."
The Albanian Intelligence Services found that the pandemic has been accompanied by "aggressive disinformation campaigns that negatively affected the response and public perception of the real danger of the pandemic." 
Meanwhile, Minister of Health Ogerta Manastirliu said to surpass the World Health Organisation target of 70% by vaccinating the entire population of over 16s by February 2022.
But this may prove easier said than done.
But it's not just Albania that is struggling with vaccine uptake. Both Bulgaria and Romania are working to vaccinate their population. This is not due to a lack of vaccines as both EU member states have secured enough to keep the vaccination drive going.
Bulgaria ranks second in the EU for COVID-19 related deaths over the last month and last in terms of vaccination, with just 21% receiving both doses. Rates are even low amongst medical staff, with just 70% of doctors fully vaccinated and some even propagating conspiracy theories or non-science based information.
EURACTIV Bulgaria reported that some GPs recommended people with chronic diseases and pregnant women not get vaccinated, the polar opposite of scientific consensus. Furthermore, the media gives a platform to conspiracy theorists and makes no effort to counter their claims.
In Romania, the situation is equally dire. COVID-19 cases and deaths reached all-time highs while the health system was close to collapsing. Doctors and politicians have blamed disinformation for the low uptake of vaccines and distrust in state authorities.
Non-EU state Serbia also has poor rates- just 43% are vaccinated despite being the first country in the region to start mass vaccination. The number is even lower in Bosnia and Herzegovina, where just 15% have taken both jabs.
Similar stories can be seen in North Macedonia, Kosovo, and even Croatia to an extent. 
When compared to Western European countries, there is a stark contrast. In Spain, 79% of the population are fully vaccinated. Meanwhile, France has reached 69%, UK 68%, Italy 72%, and Malta 85%. This is not even related to the availability of vaccines. 
So what is the problem in the Balkans?
While vaccination in the region started later than western counterparts, with most countries offering open immunisation, there are few reasons why rates remain low. Some have speculated it is due to historical experiences such as Communism.
Bulgaria, Romania, Albania, North Macedonia, Kosovo, Serbia, BiH, and Croatia have been under authoritarian communist rule as recently as 30 years ago. During these periods, the authorities and governments ruled with an iron fist and decisions and instructions were forced upon people with little concern for their wishes. Failure to comply resulted in harsh treatment, including imprisonment, exclusion, or death.
Even today, democracy in the region is fragile as authoritarian strongmen flirt with the concept of democracy but never really embrace it. Distrust of governments is also fuelled by widespread corruption and a disregard for the rule of law.
Now people have their freedom; they exercise it by going against what the government tells them. When it comes to vaccinations, this means preferring to follow sources they did not previously have access to, such as YouTube, internet sites, or foreign public figures, regardless of their qualifications or credibility.
A 2021 study by researchers at the London School of Economics found that countries with a Soviet Union past were linked to reduced trust in vaccines. It impacted confidence in its efficiency, as well as safety. Interestingly, they found the longer the person was exposed to the Soviet regime, the less trust they had.
Richard Q.Turcsanyi of Palacky University in Czechia agrees. He said there is greater distrust and scepticism in the region when compared to the rest. This, he says, is due to coordinated disinformation, a misunderstanding of science, and a significant lack of trust in the government.
Back to Albania
The situation in terms of mistrust has been further exacerbated by apparent discrepancies in reporting deaths and cases.
In January 2021, INSTAT, the country's official statistics publisher, said that deaths increased by 25.8% in 2020 compared to the previous year. Data from previous years put deaths at around 22,000. But in 2020, 27,605 people died, demonstrating a sharp increase in mortality.
The primary variable between 2019 and 2020 was the COVID-19 pandemic. The problem is that the government publicly recorded just 1,315 deaths from COVID-19 during the year. This leaves some 4,700 "excess deaths", over what would be expected.
Furthermore, the trend continued into 2021. During the first three months of the year, there were 9,657 deaths reported. This increased 35% compared to the average number of deaths over the four years before the pandemic- 6,414.
The government reported 1,810 COVID-19 deaths, leaving 1,433 excess deaths.
Even when you account for a gradual increase in deaths which is around 1% due to an ageing population, the number of excess deaths is significantly higher.
Another concern is that of the incidence of positive tests. So far, the Ministry of Health has reported that roughly 180,000 people have been diagnosed with COVID-19 since the pandemic began.
A survey conducted by Euronews found that 37.8% of participants reported having passed COVID-19, totalling around 830,000 people. Almost 43% of the population said they had tested positive in the capital alone, with 17% saying they experienced severe symptoms.
During the early days of the pandemic, some citizens reported they could not get tested by the state. This included those with moderate symptoms and those who had been in contact with confirmed cases.
Earlier this month, the Albanian State Supreme Audit (KLSH)  found that delays in testing and contact tracing and a lack of resources led to a rapid spread of the virus throughout the country.
In this environment, with limited transparency and apparent issues with official figures, it is not hard to see why Albanians do not trust the state. This, combined with a general distrust of politicians and a deep multi-generational trauma from authoritarian rule, has created a perfect storm for the COVID-19 pandemic.
Unless the government acts soon and smartly to increase public trust, Manastirliu's aims of total vaccine coverage by February seem completely and utterly out of reach. Furthermore, the number of deaths will continue to increase.