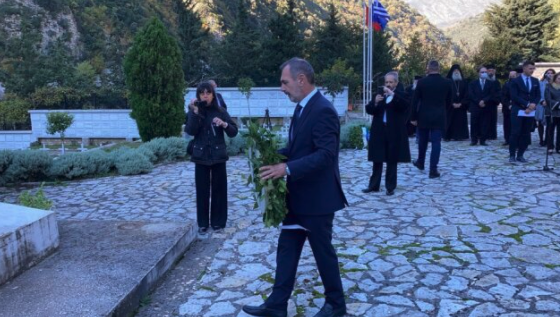 Most of the current leadership of Albania's Democratic Party youth wing, including its leader Belind Kellici, joined former party leader Sali Berisha in a town-hall meeting. Hundreds of members of youth forums participated in the meeting held i Tirana on Sunday.
It is a blow to party's leader Lulzim Basha, who is involved in an internal power struggle with his predecessor. Basha's support in the party base is quickly eroding as democrat militants are siding with Berisha in numbers.
Berisha has launched a series of town hall meetings with party members and supporters throughout the country to rile up the party base into challenging Basha's leadership.
The movement came after Basha ousted Berisha from democrats' parliamentary group, following the latter banning from entering US by the American State Department on allegations of corruption and efforts to undermine Albanian democracy.
But Berisha is accusing Basha Basha that his decision is arbitrary and in breach of party's statute.
Berisha is aiming to call the National Convention—party's highest decision-making body—to vote Basha out. He is, also, promising to democratize the party, by stipulating the mandatory resignation of party's leader that loses elections, and instituting primaries for election of party's candidates running for parliament.
Berisha led the Democratic party from its founding in 1990 until he resigned in 2013, in the aftermath of his party's loss in the general elections. Out of any position of power since then, Berisha has been a vocal critic of the current socialist government.
He maintains that State Department's designation against him was lobbied by the American billionaire George Soros, a personal friend of  Prime Minister Edi Rama. Berisha vehemently rejects allegations of corruption made by the State Department and has filed defamation charges against State Secretary Anthony Blinken in a Paris court.