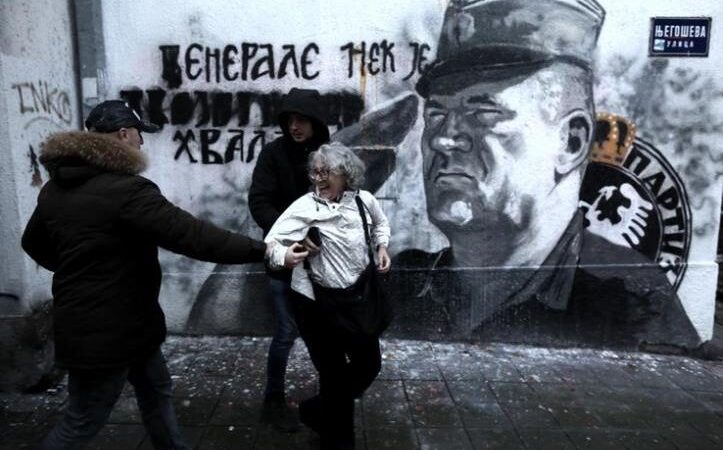 Police in Belgrade detained two activists after they threw eggs on a mural of Ratko Mladic, a convicted war criminal who led an army of Serbs in brutal crimes against Bosniaks and Croats in Bosnia and Herzegovina.
A video posted online by journalist Jelena Dikovic showed plain-clothed people who identified themselves as police officers detaining Aida Corovic and Jelena Lacimovic near the mural of the war criminal in central Belgrade. They were released from a police station a few hours later, after activists gathered to protest their detention.
The mural appeared on a residential building in July, on the anniversary of the Srebrenica Genocide. Some residents' requests to local authorities to remove it were disregarded, local media have reported.
On Friday, the Serbian government banned gatherings near the mural after activists announced their intention to remove the mural. Interior Minister Aleksandar Vulin said activists' plan was "vile and led by evil intent". On Tuesday, rally police cordoned the area after detained activists threw eggs on it.
"General, your mother should be thanked," the mural of Mladic in army clothes reads.
The general was handed a life sentence by an international tribunal for leading the Srebrenica Genocide during the regime of Slobodan Milosevic, in which his Serbian army killed over 8,000 Bosniaks in about a week in July 1995. In about three years of the Bosnian War, over 100,000 people were killed.
Mladic also led the siege of Sarajevo, during which Serbs shelled the city from hills surrounding it.
Serbia's current president Aleksandar Vucic personally visited the army during the siege, while at the same time vowed in parliament to kill 100 Bosniak Muslims for every Serb killed in the war.
He later became minister of information in the war-mongering government of Slobodan Milosevic, leading the regime's propaganda.
Serbia does not recognize the Srebrenica Genocide, its parliament has merely condemned it as a massacre.