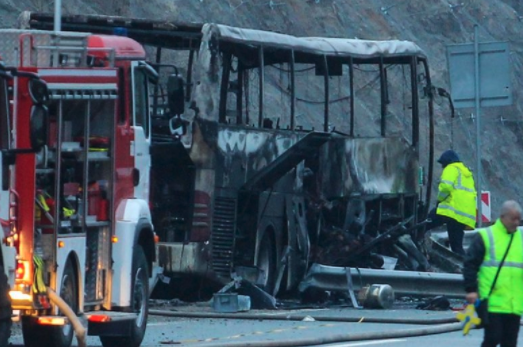 A bus has crashed in flames in Bulgaria in the early hours of Tuesday morning, killing at least 46 people including 12 children from North Macedonia, according to local officials.
Seven people were reported to have jumped from the burning bus and were rushed to hospital in Sofia where they are reported to be in stable condition. The death toll of 46 so far, makes it Bulgaria's deadliest bus accident in history.
Boyko Rashkov, the country's interior minister said the bodies inside the burned-out bus were "burnt to ash."
"The picture is terrifying, terrifying. I have never seen anything like that before,' he told the media.
So far, the cause of the accident is unknown but officials said the bus appears to have hit a highway barrier either before, or after catching fire. Investigators are on the scene to try and determine the sequence of events.
The accident took place on the Struma highway, some 45 km from the capital. It is believed it happened around 2 a.m. The party on board were returning to Skopje following a trip to Istanbul.
Macedonian Prime Minister Zoran Zaev said he had spoken to a survivor who said they were asleep until woken by the sound of an explosion. He told local media, "I am terrified. This is such a huge tragedy."
Bulgaria's national police chief Stanimir Stanev told Deutsche Welle that the 50 passengers on the bus were of Albanian ethnicity, while the two drivers are Macedonian.