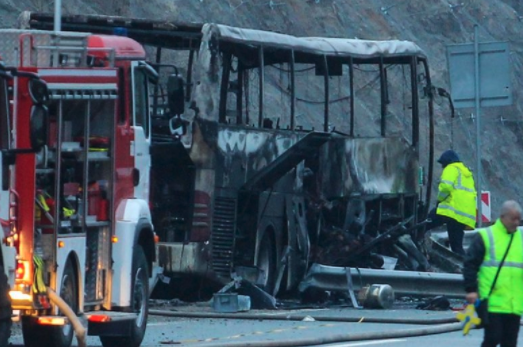 Following the tragic bus crash in Bulgaria that claimed the lives of 46 people including 12 children in the early hours of Tuesday morning, more information has been released about the victims and three days of mourning has been announced in North Macedonia, where the victims are from.
The list includes the names of predominantly ethnic Albanians, believed to be living in North Macedonia. The country is home to a sizeable number of ethnic Albanians, particularly in Ohrid, Struga, Tetova, and Skopje. Also on the list are the names of the children who died, and their birthdate, putting the youngest victims at just four and seven years old.
In North Macedonia, the government has declared three days of national mourning and all flags are flying at half-mast.
The bus was travelling from Istanbul to Skopje this morning when it crashed and caught fire. Seven people jumped from the burning vehicle and are being treated in Sofia. Doctors say they are in a stable condition.
The death toll of 46 so far, makes it Bulgaria's deadliest bus accident in history.
Boyko Rashkov, the country's interior minister said the bodies inside the burned-out bus were "burnt to ash."
"The picture is terrifying, terrifying. I have never seen anything like that before," he told the media.
So far, the cause of the accident is unknown but officials said the bus appears to have hit a highway barrier either before, or after catching fire. Investigators are on the scene to try and determine the sequence of events.
The accident took place on the Struma highway, some 45 km from the capital. It is believed it happened around 2 a.m. The party on board were returning to Skopje following a trip to Istanbul.
Albania's Foreign Minister Olta Xhacka spoke of the loss of the ethnic Albanians, noting her "great grief".