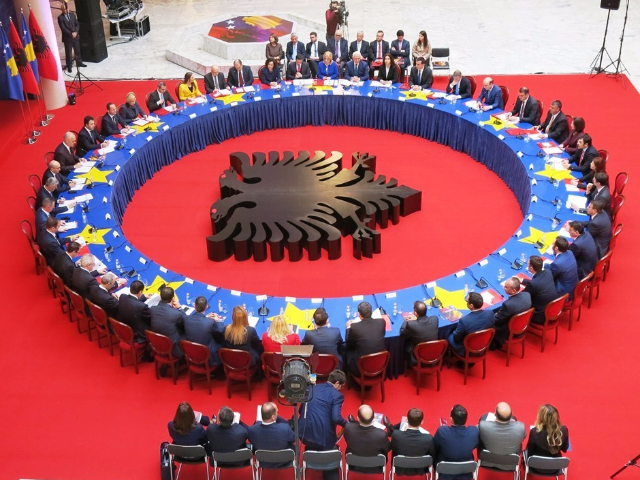 In a joint meeting on Friday, the governments of Albania and Kosovo will sign agreements to ease the provision of residence permits and recognize social security contributions in their respective countries. 
Kosovo citizens will be able to get a five-year residence and work permit in Albania through a single application, requiring a reduced number of documents, Albania's Minister of Interior Bledar Çuçi told journalists on Wednesday.
Albanians living in Kosovo will also face fewer requirements to get the respective permits.
Albanian Minister of Finance Delina Ibrahimaj said that the mutual recognition of social security contributions will benefit those on pregnancy leave, people who have suffered accidents at work, as well as those on disability pensions in both countries.
This will be the seventh joint meeting between the governments of Kosovo and Albania. While a number of agreements have been signed between the two throughout the past eight years of Prime Minister Edi Rama's rule, their concrete benefits have been questionable.
Kosovo Prime Minister Albin Kurti has been calling on Rama to prioritize bilateral relations with Kosovo instead of pushing to establish controversial regional initiatives like Open Balkan, which Kosovo, Montenegro, and Bosnia and Herzegovina refuse to join.
Rama maintains that cooperation between all six Western Balkan countries is the right way to go.
However, in principle both leaders agree that despite their disagreement regarding Open Balkan, bilateral cooperation should be strengthened.
The seventh joint government meeting comes two days before the celebrations in both countries on November 28 of Albania's declaration of independence from the Ottoman Empire in 1912, which at that time included Kosovo as well.