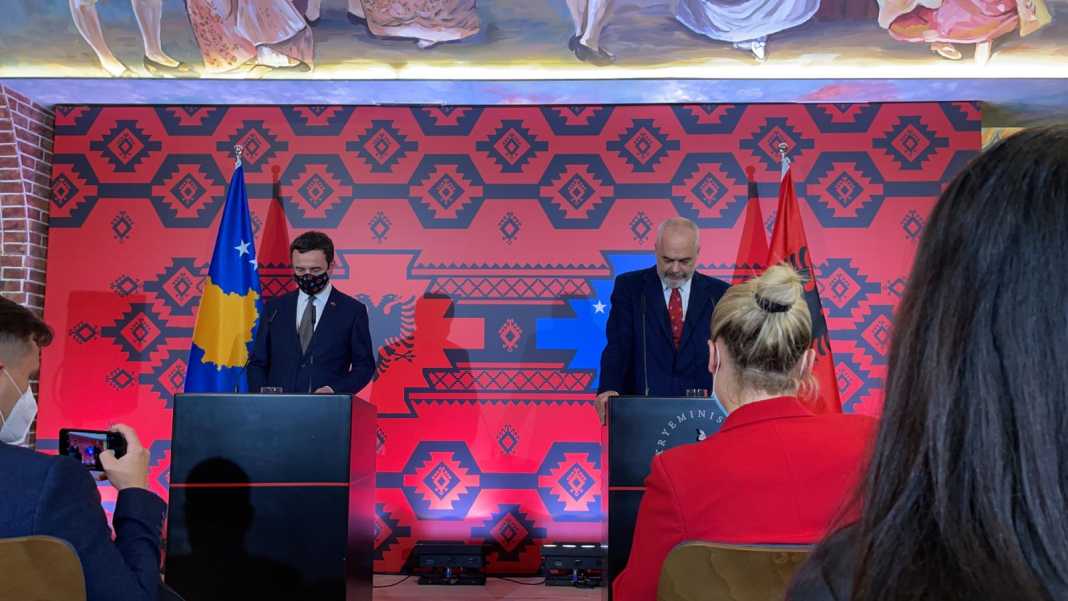 The governments of Kosovo and Albania have signed 13 agreements and have consented to remove border control for those travelling between the two countries.
On Friday, Albanian Prime Minister Edi Rama and his Kosovo counterpart Albin Kurti met in Elbasan, in central Albania, to conclude a slew of agreements.
Border security and the free movement of goods and people were at the forefront of discussions. Kurti and Rama signed agreements that relax checks for goods travelling between the two countries. A new border crossing point will also be opened in Shishtavec.
They also agreed to remove border control for vehicles travelling between Kosovo and Albania. Soon, border crossings will be monitored by cameras that will register the license plate of each car entering or leaving each respective country.
Kosovo citizens will be able to get a five-year residence and work permit in Albania through a single application, requiring a reduced number of documents. This will also apply for Albanian citizens seeking to move to Kosovo.
Each country will recognize the other's diplomas and certificates, and an agreement was signed for the recognition of social security contributions. This latter will benefit those on pregnancy leave, people who have suffered accidents at work, as well as those on disability pensions in both countries.
The two governments also vowed to work together for the construction of a railway line between Durrës and Prishtina.
Kurti and Rama agreed to establish an intergovernmental secretariat that will oversee the implementation of these and other agreements signed between the two countries.
Prior to this meeting, Albania and Kosovo had signed a total of 86 agreements, only 49% of which have been fully implemented.