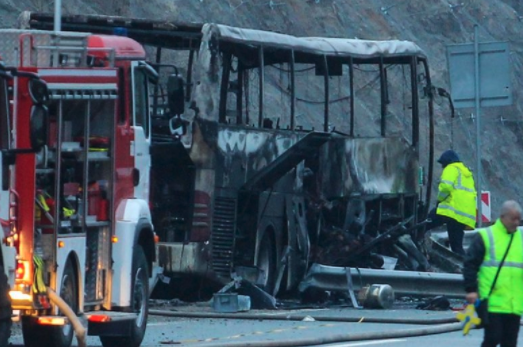 The bus that crashed and burned in Bulgaria earlier this week, killing 44 people, including 12 children, was not licensed and did not pass a customs check at the Macedonian border, according to reports in Bulgarian media, confirmed by Exit.
Belonging to a transport company, Besa Trans, the vehicle crashed and burned in a matter of seconds. The only survivors managed to escape by smashing a window and jumping onto the road.
An inspection carried out by the Inspectorate of the Customs Agency in Skopje established that the bus, with registration SK 0284 BA owned by Besa Trans, was not registered when it left the country on November 18.
In a statement, the agency said, "The customs officers from the Deve Bair border checkpoint have checked only the list of the names of the passengers."
The two customs inspectors who were on duty at the time have been fired, and their immediate supervisor will be sanctioned.
The Macedonian Ministry of Transport and Communications has revoked the license of Besa Trans as the bus that crashed was not listed in the electronic register for issued licenses. They held four licenses for busses, but these did not include that of the bus involved in the accident.
Besa Trans also denied they were smuggling fuel, a theory suggested by some as to why the vehicle burned so quickly. It is common for bus drivers to fill containers at Turkish fuel stations to enjoy significantly lower prices. The containers are then put in the spare-wheel compartment, and the wheel is moved to the luggage compartment.
The Macedonian Interior Minister Oliver Spasovski confirmed that no fuel canisters were found on the bus.
Those travelling on the bus had availed themselves of an €79 offer for three nights in a hotel and transport to Istanbul and back to Skopje.
Not only was the bus unlicensed and allowed to cross international borders with little in the way of checks, but under Bulgarian law, children are not allowed to travel by bus at night.  Following a tragic 2004 accident where 12 Bulgarian children died when an overnight bus crashed into a river, the law has been changed banning such journeys. But this was not enough to stop 12 Macedonian children, some as young as four, dying in this week's crash.
Furthermore, there are supposed to be two drivers on international trips, but this is not believed to have been the case on this occasion.
Concerns have also been raised over the condition of the road and reflective signage designed to mark the edge of it.