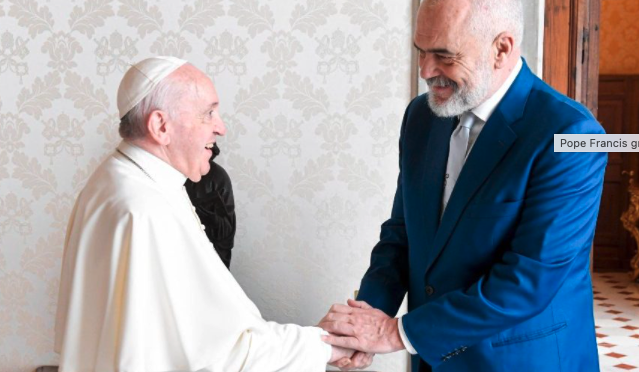 Prime Minister Edi Rama has met Pope Francis at the Apostolic Palace in the Vatican on Saturday, November 27.
The pope received Rama who also met with Cardinal Secretary of State Pietro Parolin and Archbishop Paul R Gallagher, Secretary for Relations With States.
They discussed the good relations between the Holy See and Albania, the contribution of the church to Albanian society, migration, and peace. Regional issues were also discussed including the situation in the Western Balkans and Albania's hopes of EU accession.
Following the discussions, both leaders exchanged gifts. Pope Francis gave Rama, a bronze bas-relief of Noah and papal documents including this year's message for World Day of Peace. Rama offered Francis an icon of Madonna dell'Avvento and an icon of St Francis. 
He also gave him two paintings and a picture from Friar Gjergj Fishta, an Albanian Franciscan, poet, philosopher, and one of the most influential Albanian writers in history.