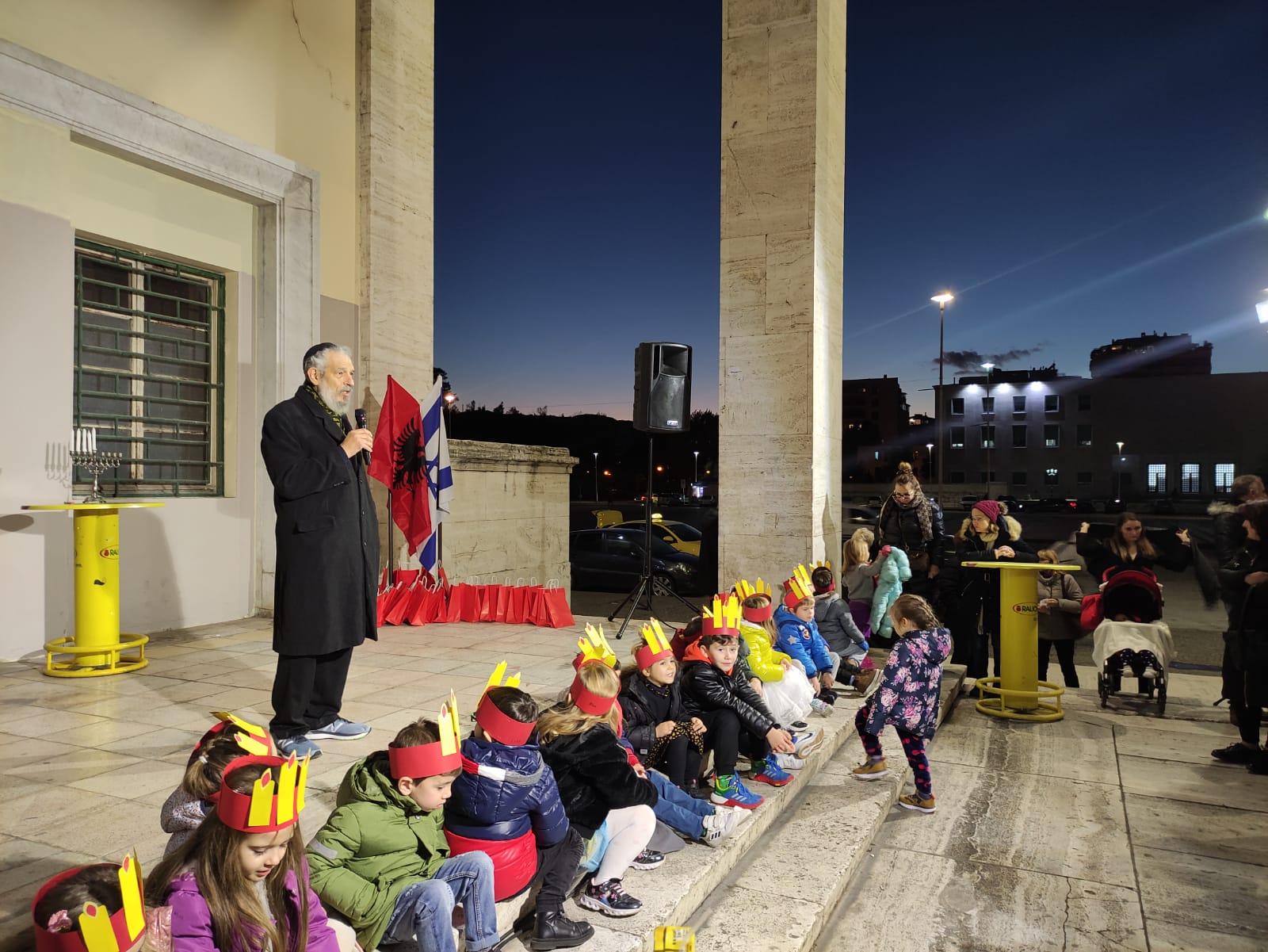 Members of Albania's Jewish community, joined by friends and representatives from five other religious groups, met in Mother Teresa Square, Tirana, last night to celebrate Hanukkah.
Rabbi Yisroel Finman led the event from Rabbinate Albania, who resides in Albania. He explained the purpose of the Menorah and why and how each candle was lit over the eight days of Hannukah. The four candles were lit by members of Albania's different religious communities, signifying acceptance of other religions and cultures. The clergy in attendance represented Muslim, Catholic, Bektashi, Orthodox, Evangelical, and Judaism.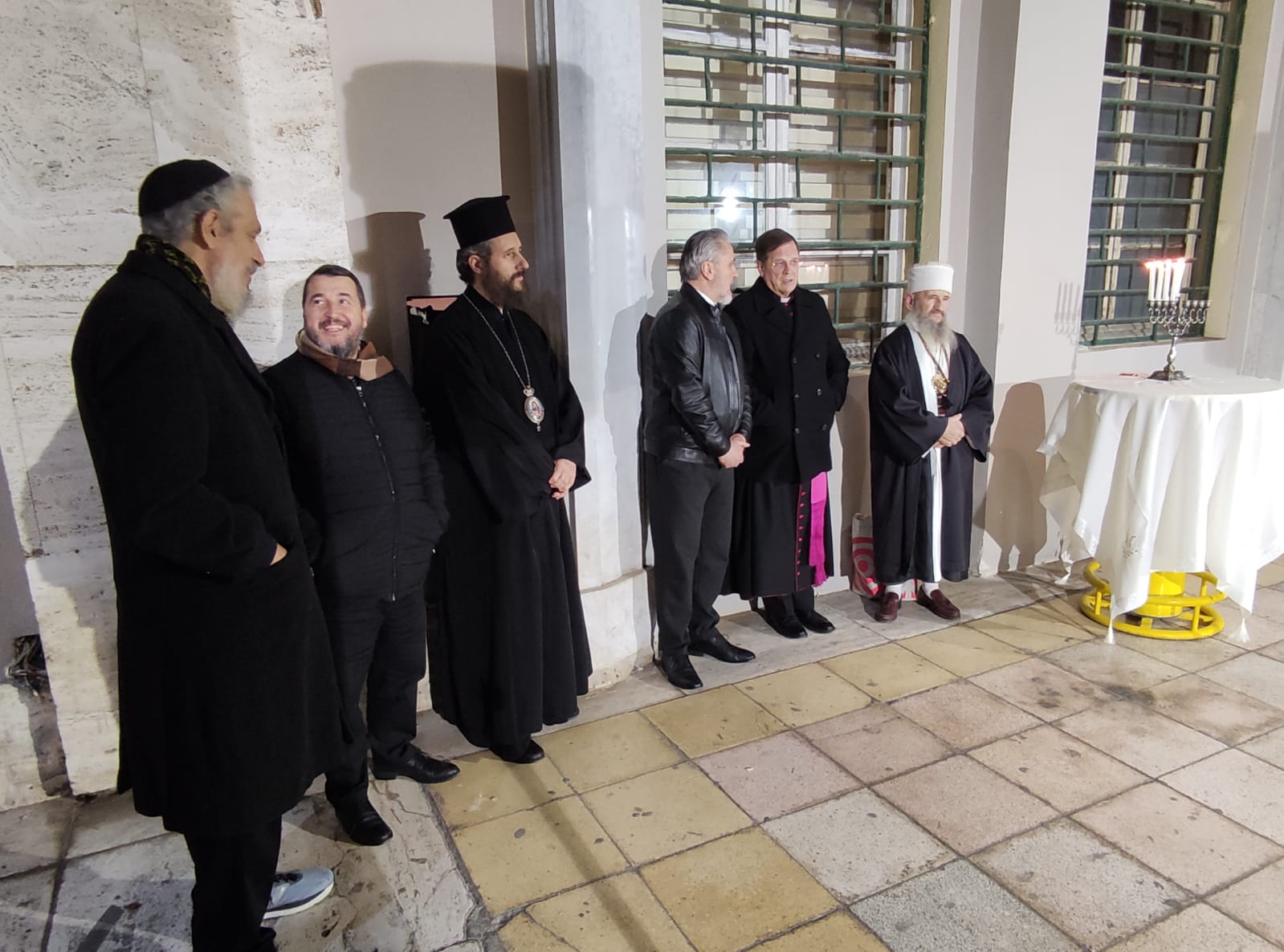 In addition, the Besa & Shalom Foundation and the Shalom Centre sponsored the candle lighting and the evening's celebrations. Those in attendance were also treated to a performance of Jewish songs and dances by children from the Shalom Centre.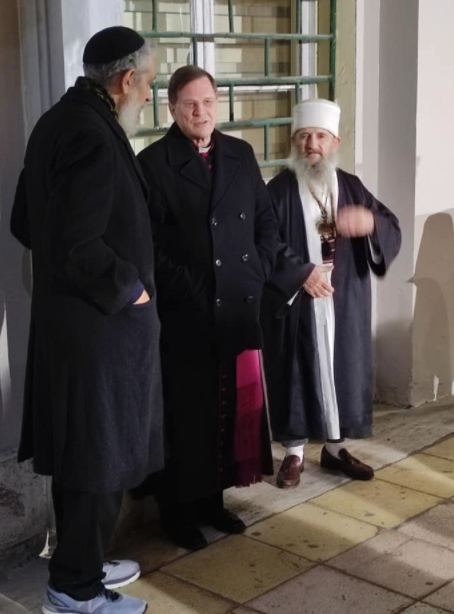 A 15 foot Menorah has also been installed on the square, and an additional light will be illuminated as the festival progresses.
Jewish people believe that the lights of the Menorah are reminiscent of the first light given to man by God. The lighting of the candles represents a spark of "divine light" and is meant to be holy while also providing light in the darkness.
Rabbi Yisroel Finman "We Need to Pay the Albanian People Back
Albania is home to a small Jewish community comprised of foreign residents and a handful of Albanians. But in the past, it was home to thousands of Jewish people who have lived here over many centuries.
Jewish quarters dating back several hundred years can be found in Vlora and Berat, there was a synagogue in Saranda in the 4th century, and there is a book in Turkey's national library detailing Albanian jews from the 18th century.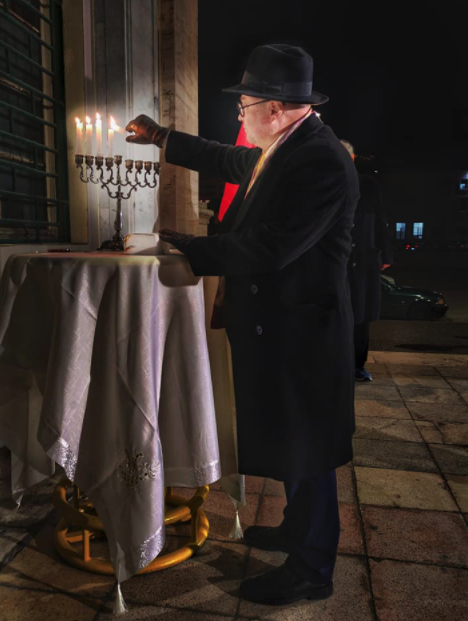 Then in World War II, Albanians gave shelter to several thousand Jewish people, even giving them Albanian names to protect them from fascist invaders.
Albania was, in fact, the only country to have more Jewish people in it after WWII than at the start.
Rabbi Finman told Exit, "There is something very curious about the connection betweenthe  Albanian Nation and the Jewish Nation. It's not just that Albania wants our help; it's that there seems to be a unique, soul affinity between the two peoples. There is a buried connection here; we need to unearth it- we need to pay the Albanian people back."